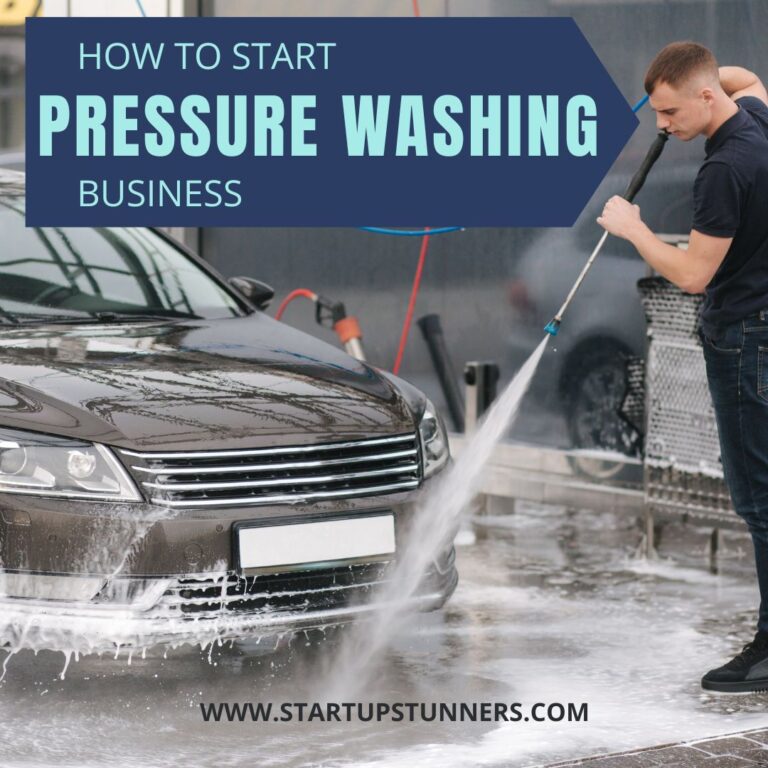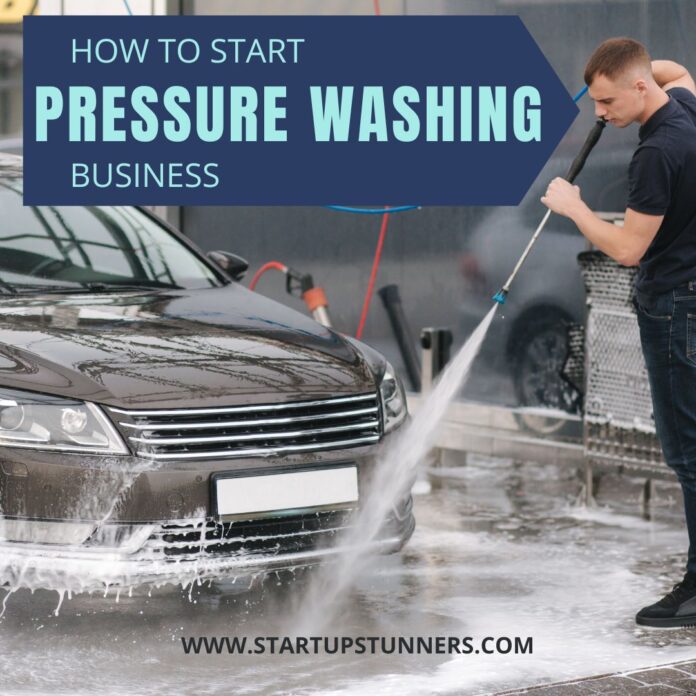 For entrepreneurs looking for a low-cost, high-demand, and flexible business venture, starting a pressure washing business can be an excellent opportunity. Pressure washing is a necessary service for maintaining the exterior of buildings, vehicles, and equipment, and there is always a need for these services all year. Furthermore, pressure washing businesses have low startup costs and can be learned quickly, making them an accessible option for those looking to start a business with limited resources.
In this blog post, we will go over the steps to starting a pressure washing business, from planning and preparation to marketing and growth. You can start a successful and profitable pressure washing business by following these steps.
Quick Facts
| | |
| --- | --- |
| Industry Trend | Growing |
| Time Required To Grow | 1 – 3 Months |
| Startup Cost | $17,000 – $77,000 |
| Profit Potential | $45,000/Annual |
| Market Size | $1bn |
| Number Of Businesses | 22,186 |
Reasons Why You Should Start a Pressure Washing Company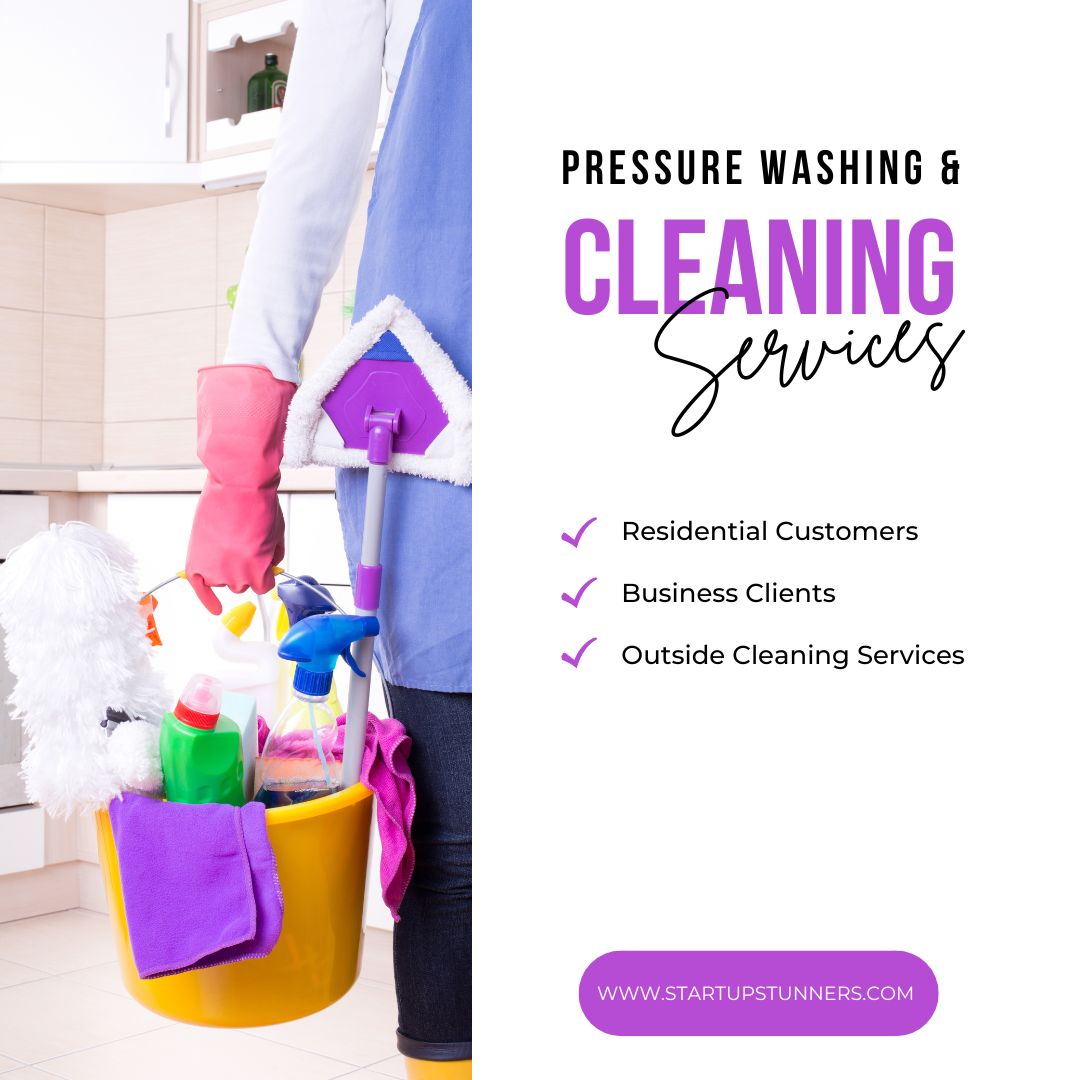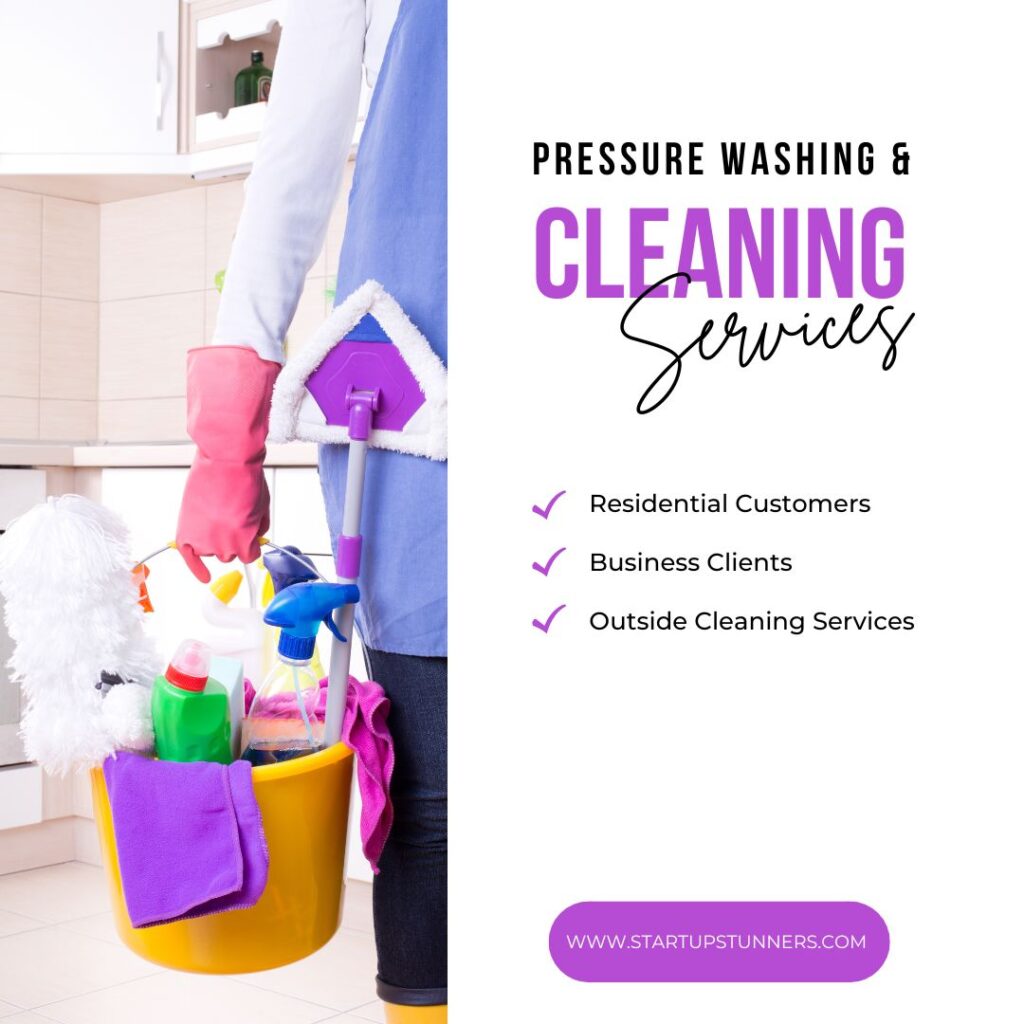 For a variety of reasons, starting a pressure washing business can be a lucrative business venture. For starters, pressure washing services are always in high demand, especially during the spring and summer months when homeowners and businesses want to clean up their outdoor spaces. Furthermore, because pressure washing is a necessary service for maintaining the exterior of buildings, vehicles, and equipment, customers will require these services on a regular basis.
Another advantage of starting a pressure washing business is that it has low startup costs. In comparison to other types of businesses, you don't need a lot of money to buy equipment or hire employees. Furthermore, pressure washing is a skill that can be learned quickly, and there are numerous resources available online.
A pressure washing business also provides a lot of flexibility in terms of working hours and location. You can work on your own schedule and in a variety of settings, including residential areas, commercial areas, and even industrial sites. This means you can customize your business to fit your lifestyle and preferences.
Finally, a pressure washing business has the potential for expansion and growth. As your company expands, you can hire more employees, purchase more equipment, and broaden your service offerings. You can also think about franchising your company, which can open up even more opportunities for growth and profit.
Following are the steps if you are wondering how to start pressure washing business.
Step 1. Pressure Washing Businesses Industry Overview
In 2022, the worldwide market for pressure washers was valued at $2.6 billion. Forecasting ahead to 2027, IMARC Group estimates the market to be worth US$3.1 billion, expanding at a compound annual growth rate (CAGR) of 4%.
Over the last five years, the industry's yearly income has increased at a 9.4% clip, reaching $1.3 billion, despite the circumstances being stable.
The pressure washing market in the United States is forecast to develop at a CAGR of 3.4% between 2016 and 2025, according to market researcher Grandview Research. This would result in a $2.3 billion market by 2025.
As of 2022, the United States was home to more than 22,000 pressure washing companies. In addition, more than 30,000 individuals found gainful employment in the sector.
Step 2. Target Market: Who Usually Uses Pressure Washing Services?
The target market for pressure washing includes:
Public Places
Individuals
Businesses
Building managers and homeowners make up most of a pressure washing company's clientele.
You will be cleaning the outsides of houses, including decks, patios, and driveways. A homeowner may request that you pressure wash their roof to remove fungus or trash; however, you should decline their request. Using a pressure washer can reduce the lifespan of a roof by half or more.
Your commercial clients may ask you to clean the sign, the sidewalks and parking lot leading up to the entrance, as well as the outside of their business.
Pressure washing improves the property's curb appeal and protects against moss-related injuries.
Pro Tip: Get your pressure washing business plan to target your audience effectively.
Step 3. Mastering the Art of Pressure Washing
Pressure washing is simple, but it must be done with caution. Water pressure is sufficient to remove dirt and grime from a vehicle's exterior, but take care not to break a customer's glass in the process. Again, your lack of knowledge, training, or experience will be disastrous.
One option is to enroll in a nearby pressure washing training school, while the other is to gain experience in the field by working for an established company. The second option is to seek advice online by watching expert-created courses on YouTube.
It's the kind of thing that's best learned through practice. Professionals can finish a home in a fraction of the time it takes a beginner because they know what they're doing.
Step 4. Create an Effective Business Plan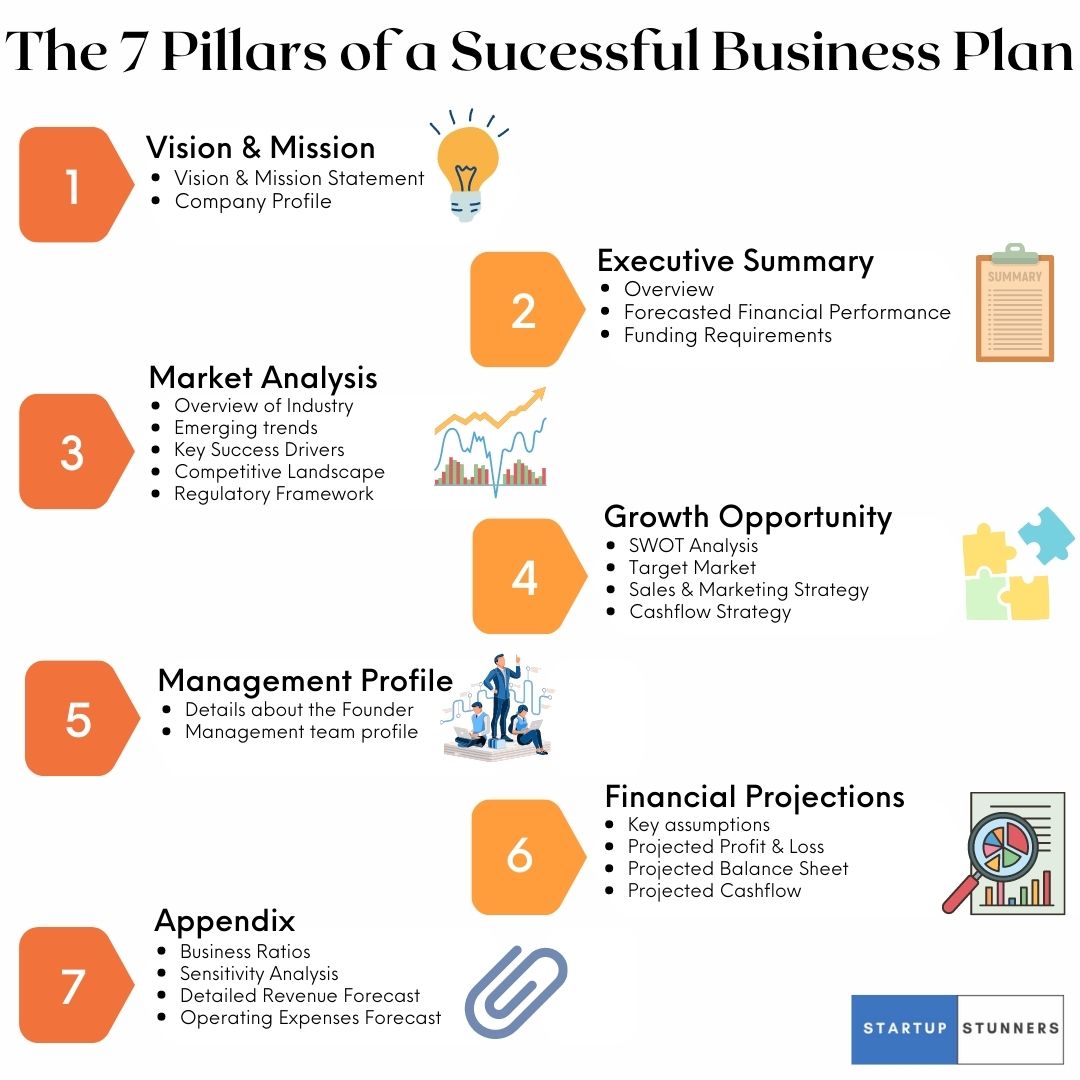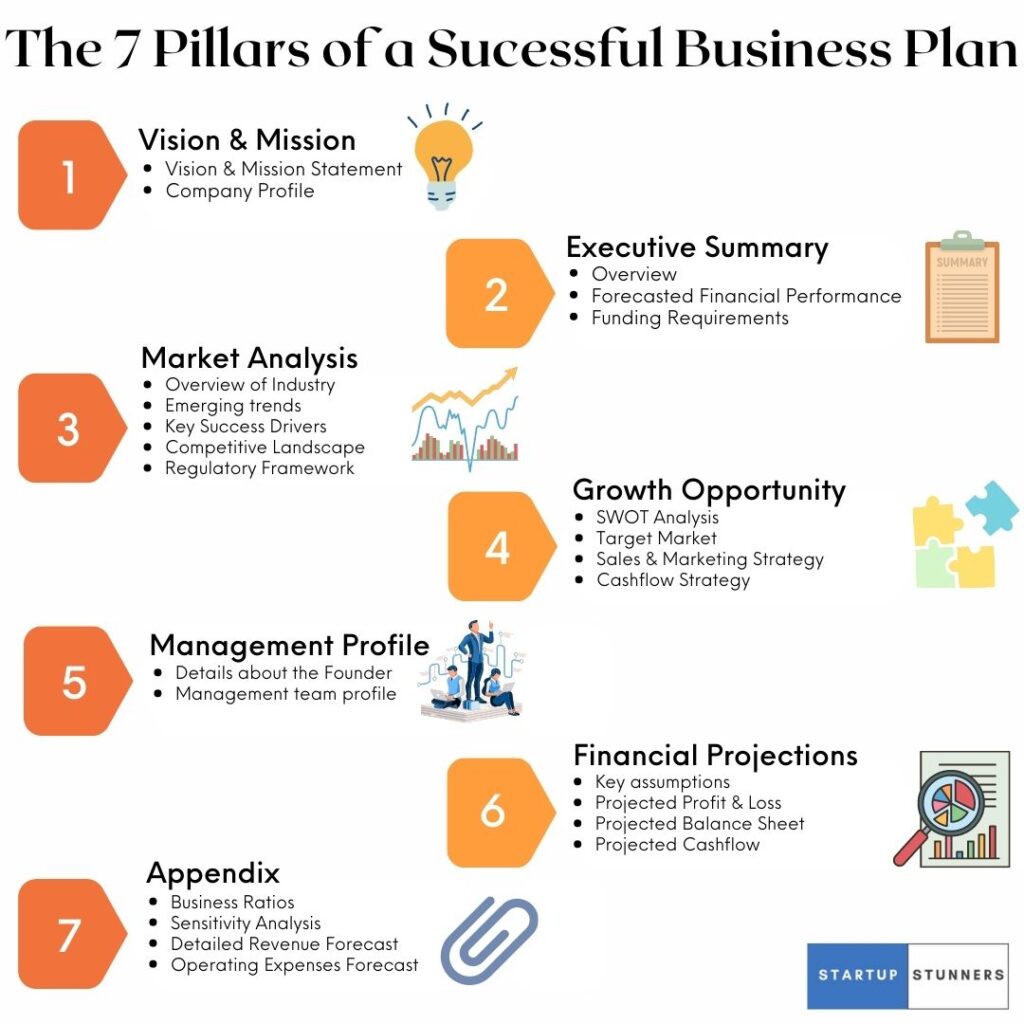 For starting any Business, a well thought-out and professionally drafted Multigenerational Business Plan is essential. Investors typically want to see a detailed business plan that outlines the business's goals, strategies, and projected financial performance. A well-written and thorough business plan can demonstrate to an investor that the business is well-managed and has a strong chance of success.
To prepare a professional Business Plan, you need an expert Business Plan writer who can design this strategic document that will ultimately support you to outperform your competitors. Startup Stunners has been providing Business Plan writing services for the past several years and you may also consider acquiring our services by contacting our team of experts at startupstunners.com/contact-us/
Step 5. How Much to Invest?
It all comes down to the specifics of your plan, although initial investment needs are often relatively low. Other fields, such as industrial washing, may require specialized, and sometimes more expensive, equipment. The initial investment is estimated below.
| | | |
| --- | --- | --- |
| Type Of Cost | Minimum | Maximum |
| Equipment And Supplies | $2,000 | $5,000 |
| Transportation | $5,000 | $50,000 |
| Monthly Insurance | $100 | $2,000 |
| Premises | $1000 | $2500 |
| Software | $300 | $500 |
| Marketing And Advertising | $500 | $2000 |
| High Quality Pressure Washer | $5,000 | $10,000 |
| Legal Formalities | $600 | $1000 |
| Staff Salary | $1000 | $2000 |
| Custom Vehicle Graphics | $1,500 | $2,000 |
| Total | $17,000 | $77,000 |
There are more resources available to assist you in performing your daily tasks more efficiently. Accounting software to monitor financial status is a good example, which will cost around $300 – $500 per month. Furthermore, if you intend to hire people, it is recommended that at least $1,000 be set aside for labor costs.
Maintaining the pressure washing equipment and gear are additional expenses you should budget for each month to be on the safe side.
Step 6. Trends & Challenges in Pressure Washing Business
What we're seeing now in the pressure cleaning market are trends like:
An Increasing Reliance on Electronics
There has been a rise in demand because of the need to comply with health and safety standards stemming from the epidemic.
There is a growing population and accompanying increase in housing and automobiles.
Problems that the industry must deal with include:
Extremely dangerous, with a high risk of injury
The introduction of new cleaning methods
Step 7. How Much Money Can You Make Operating A Pressure Washing Service?
Pressure washing costs between $60 and $100 per hour. A 1,200-square-foot home could take up to six hours to power wash. Pressure washing a driveway takes about an hour, whereas cleaning a roof, terrace, or sidewalk may take twice to three times as long.
Within the first two years, you may be able to earn up to six hours per day, three days per week, at a rate of $60 per hour, for a yearly income of around $56,000. If we assume an 80% margin on this transaction, you will profit nearly $45,000.
Step 8. Pressure Washing Business Startup Kit: Equipment and Supplies
For a successful launch, you'll need to invest in the necessary machinery and materials. Decide whether you want a gas or electric pressure washer right away. One thing to remember is that if you use an electric pressure washer, you will need your customers to supply the electricity. You should also consider whether you require a light, medium, or heavy-duty pressure washer.
The following are examples of potential tools:
High-pressure washers, pumps, motors, nozzles, chemicals, and cleansers are among the tools used to clean surfaces under pressure.
When the vehicle used to transport equipment, such as a company truck setup, prominently displays company brandings, such as a company name and contact information, the promotional value increases.
Dress code or company t-shirts
Step 9. Determine Your Services and Scope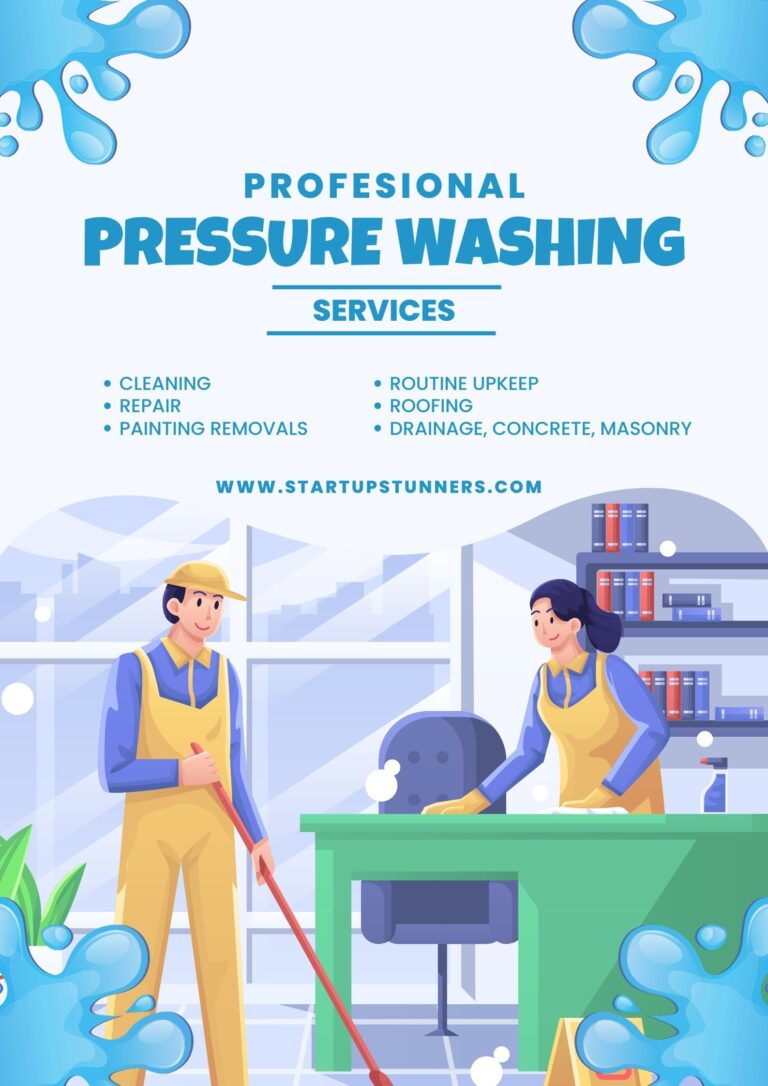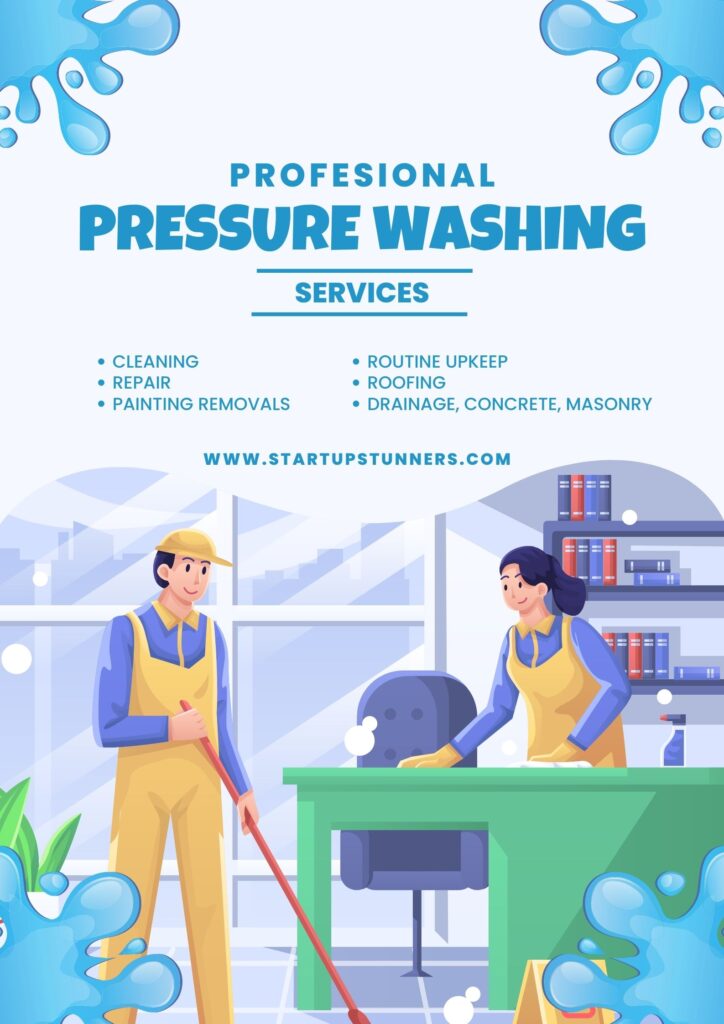 The first considerations are what you excel at and who you will primarily serve (individuals in private residences, businesses, or large corporations). Maintain your composure. Take things slowly and deliberately. There will always be tasks that are too large or too difficult for you and your tools.
Focus on only a few services if you want to become very good at what you do. This will help you streamline your initial setup in addition to saving money on the purchase price of new equipment.
Following that, you must define the scope of your services. Certain businesses, for example, limit their services to specific areas such as repair, painting removals, routine upkeep, patio doors, roofing, drainage, concrete, masonry, and so on. As an added convenience, some companies clean windows and provide other housekeeping services.
Don't try to be great at everything; instead, excel at what you enjoy doing. When you've established yourself in the industry, you can confidently take on demanding customers and larger contracts.
For example, it took Kris Cook, the owner of KC Power Clean, 13 years to build the company into the successful power washing operation that it is today. Starbucks had contacted him about removing some paint by that point. This allowed him to market his sandblasting service alongside it. As a result of this change, he expanded his business by investing in new equipment and hiring more employees.
Step 10. Invest in Quality Business Software
If you own a business, using digital calendars and checklists can help you stay on track by eliminating unnecessary steps, automating data flow, speeding up system performance, and improving overall control.
Prompts can help a pressure washer company keep track of completed tasks, daily cleanings (with pictures, captions, and yes/no responses), equipment breakage reporting, location checks, maintenance purchase receipts, incident/hazard updates, and much more.
The incorporation of advanced software simplifies the process of collecting and exporting employee trackers, ensuring that payroll is always correct with a single tap.
You'll always know where your field team members are with GPS time tracking. As a result, business owners no longer have to worry about time fraud.
It's time to organize your team's schedules. You can now schedule tasks and assign workers with minimal effort. You will receive notifications whenever a team member accepts or declines a shift, arrives late, or completes work. Furthermore, employees may use a relevant app to volunteer for open positions.
Inside the app, group and one-on-one work chats save time and effort by ensuring that all team members have access to the same, up-to-date information.
Step 11. Legal Formalities
Make sure you have the necessary licenses, approvals, and insurance in case you cause property damage or injure someone while on the field. This will keep you out of prison and keep you from having to declare bankruptcy. The essential information is provided below.
To learn about the requirements in your area, contact your city licensing office or county clerk's office, as they vary greatly from state to state.
To legally operate, you must first obtain a business license from the appropriate authorities.
Before a local government will issue you a pressure washing company license, you may be required to post a surety bond.
In order to legally operate a business in the United States, you must register with the Internal Revenue Service (IRS) to collect sales tax.
Contact the local licensing office to determine whether a contractor permit is required for pressure washing in the area you wish to serve.
Because you will almost certainly be dumping water into a storm sewer, you may require special permission from your state's environmental agency.
You should think about three major insurance policies for your pressure washing business. Furthermore, you should shop around for insurance quotes and seek professional advice.
Insurance against financial liability for any damage caused by pressure cleaning.
If you or someone else is injured at work, you are entitled to workers' compensation benefits.
Protection against theft and damage for expensive tools.
Step 12. Pressure Washing Marketing Tactics
In today's world, establishing a power washing company necessitates a strong online presence. As a result, add as many accounts as you can. Having a profile on just one social media site is insufficient; you should use as many as possible.
Maintaining a social media profile is critical because it allows for the following:
Create a solid track record
Enhance product recognition
Create eye-catching pressure washing business cards.
Attract a larger audience.
Find other experts to network with.
Make use of a variety of marketing strategies.
Encourage people to visit your website.
Connecting with potential clients and buyers via social media could be very beneficial.
How To Create A Convincing Ad?
Attracting potential buyers' curiosity and inspiring their financial investment is the key to expanding your business. For example, if you want to distribute flyers by knocking on people's doors, you may offer something like this:
You Could Publish a Headline Saying, "Wash your driveway and get a free deck and front porch cleaning, also!"
Draw their attention with a fun fact: a tidy driveway may add $300 to the perceived worth of your property.
To Spark Interest, Make Them Feel Left Out: Thirteen of your neighbors in the last thirty days have made improvements to their property's aesthetic value. So what exactly are you holding out for?
Encourage people to act quickly by specifying a deadline: "This discount is only valid for the next two days; to take advantage of it, feel free to contact us at xyz.com.
Step 14. The Key to Success Is Going Above and Beyond
Just remember these few guidelines always to be one step ahead:
Simplify The Process Of Making Reservations
Make sure to express gratitude to your customer for their payment with a handwritten letter or an email, and offer to set up another pressure washing job after completing the first one.
Send Pre-Written Texts To Customers Automatically
Use pre-made templates to save time and effort when sending quotations, invoices, and other documents. This will help you keep in contact with clients and pay attention to every detail as they come.
Request For Customer Reviews
The best way to learn how to serve your consumers better is to send out a short survey and get their feedback.
Distribute Your Business Cards To Nearby Shops
Get your name out there and meet potential customers in your neighborhood by having fliers and business cards displayed in the windows of surrounding sites.
Step 15. Decide If The Business Is Right For You
It's crucial to weigh the benefits and drawbacks of starting a company before making any decisions. Here are some key pluses and minuses, in our opinion.
The initial investment is little.
In addition, job experience is a great way to pick up practical technical skills.
Methodology for doing business that is easy to understand
Plenty of opportunities to focus your efforts
Since cleaning is constantly necessary, demand is stable.
There is a healthy margin of profit.
Competition can be fierce.
Organizing and supervising employees is no easy task.
Strenuous physical labor
It may be a lengthy process to earn a reputation.
Frequently Asked Questions
Can you scale a pressure washing business?
The answer is yes. You can expand your pressure cleaning company. As you hone your skills, you'll be able to complete tasks more quickly and take on additional work. Once your available time has been fully used, you may begin to make investments in equipment and staff.
Should you become a member of a non-profit pressure washing organization?
It's wise to have a support system around you at all times. There are three major ones, and before deciding which one to participate in, you must check them. Each of these groups has annual conferences for networking purposes, in addition to several other activities held across the country.
Pressuring Washing Resource Association (PWRA)
United Association of Mobile Contract Cleaners (UAMCC)
Power Washers of North America (PWNA)
What is the difference between pressure washing and power washing?
The temperature of the water is what differentiates pressure washing from power washing. When cleaning with a pressure washer, hot or cold water is used at standard pressure. However, a power cleaning with hot water and reduced pressure might be useful for particularly stubborn situations requiring additional disinfection.
Bottom Line
And there you have it—a complete and detailed guide to launching a pressure washing company. By now, you should have all the information you need to begin going. Starting by providing your services for free to close friends and family is a great way to reduce overhead costs, gain experience, and get your business up and running.
Holding exceptional networking abilities would bring in more customers and allow you to broaden your scope of business progressively. Top-notch service is the key to attracting and retaining a steady stream of loyal customers. So take a leap and launch your pressure washing business soon.