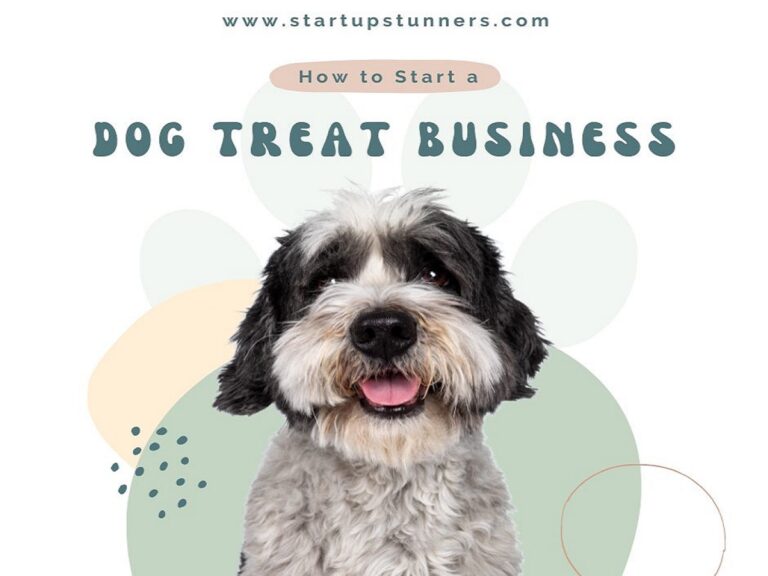 It can be very profitable to start your own dog treat business. It lets you make something that dogs will love, and it's a great way to make extra money and start a side business.
You might have a good idea, but that doesn't mean you should start a business right away. Instead, we've made a step-by-step plan that will help you get off on the right foot and find the right answers to your questions, like where to get your initial funding.
Is it hard to start a business that sells dog treats? We know how hard it can be to start a small business and keep it going well. So, we made a detailed plan to help you find your way through the process.
Step 1: Determine Whether the Business Is a Good Fit for You
When you decide to start your own business, there are some important questions you need to ask yourself: Will you have enough time and energy to run your own business? Are you sure you can handle everything that comes with managing money? Do you know how to write a plan for a business?
Even if you don't want to, don't let this stop you from starting a business selling dog treats. If you know what you want, you can start your own business.
Don't worry if you don't have much experience or if you don't have a business or marketing background. We've already done all the hard work, and we'll show you how to launch your dog treats business. In addition to giving you the tools you need to make the change, we'll also answer any questions you might have along the way.
Key things to think about when running a dog treat business are where you are, what products you sell, and what kind of customers you want.
Step 2: Industry Trends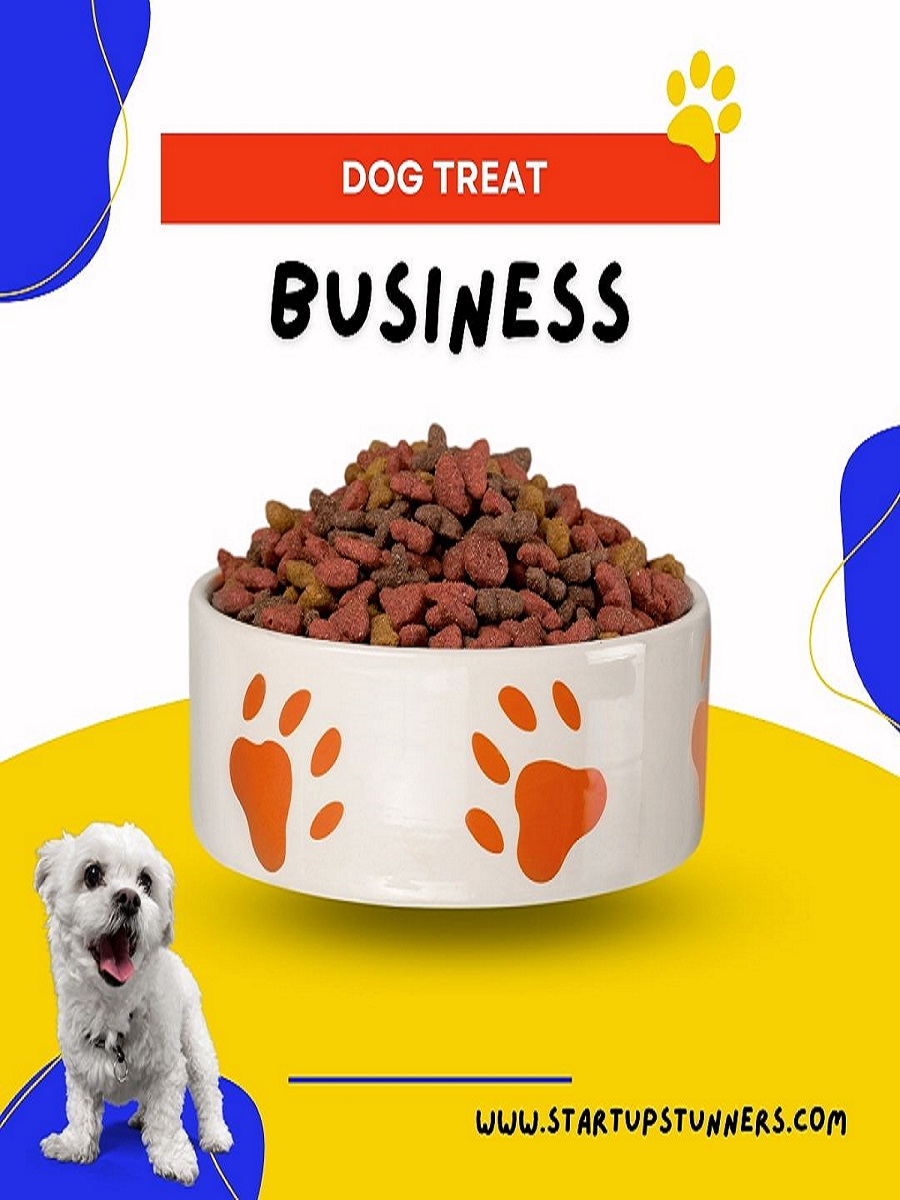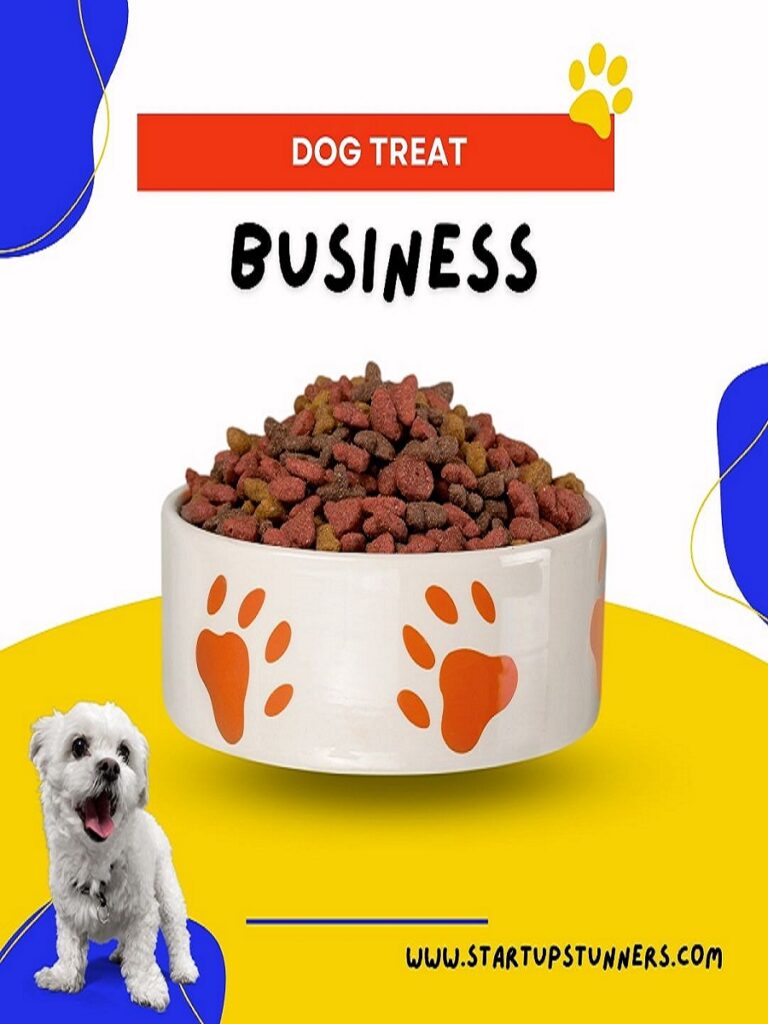 Your business will do well if you know what's going on in your field and can predict what will happen next. For instance, if your business sells pet supplies, you should think about how the popularity of "dog walking" and "dog daycare" has affected your business. This will help you think of ways to grow your business and serve a wider range of customers.
According to the results of the American Pet Products Association's 2021-2022 National Pet Owners Survey, over 90.5 million families, or 70% of all U.S. households, have at least one pet (APPA).
A recent survey found that when people buy pet food, most of them look for items that meet their pet's nutritional and health needs. Many pet owners also cared about how the product tasted and how much it cost.
People are paying more attention to calorie counts in both their own and their pets' food. In 2021, searches for low-calorie pet food products on Amazon in the U.S. rose by more than 110%. About 35% more people were looking for organic pet food, which is a popular trend among consumers across a wide range of product categories.
It was thought that pet food and treats would make up the biggest part of the U.S. market in 2021.
So, there are more companies that make food for pets. If you want to start a business selling dog treats, the good news is that your product should be good. However, there are a few things you can do to make your brand stand out.
The only goal of your business shouldn't be to make money. It should be used for more than that. If only people who love your products are interested and you do it as a hobby, it will be hard to get ahead in the market.
Step 3: Decide What You'll Be Selling or Providing as Dog Treats
As the owner of a dog treats business, you need to be able to choose the best products for your customers and give them to them. The first step is to figure out why a dog owner would buy a treat. Usually, a prize is given for good behaviour or when a goal is met.
Dog owners give their pets special treats on important holidays or on the dog's birthday. Customers might be given treats with seasonal or holiday themes, like those for Easter and the end of the year. Using your own recipes for dog treats is the best way to stand out.
The business of making food for pets is worth about $30 billion and is growing. Even though there are already a lot of well-known players in the field, there is still room for newcomers to grow and succeed.
One reason you might choose to focus on dog treats is that this area of the pet food business has grown a lot in recent years. In fact, the dog treat market was expected to grow from $5.6 billion in 2015 to $8.1 billion in 2020. According to Packaged Facts, the market is now expected to bring in $325.74 billion in the United States by 2028.
Another reason we chose this niche is that it has a high potential profit margin. If done right, dog treats can make a lot of money.
Due to the growing demand in this area, there are many opportunities, such as the trend towards being health-conscious, the fact that pets are living longer, and the trend towards making pet products more expensive.
Step 4: Take All the Costs into Account
How much does it cost to open a business selling dog treats? Here are the most important costs you'll have to pay.
A dog treat business needs between $4,000 and $15,000 to get up and running. The most expensive things are setting up a digital store, buying equipment, and doing packaging promotions. See the table below for a more in-depth look at costs.
| | | |
| --- | --- | --- |
| INITIAL INVESTMENTS | RANGE ESTIMATION | AVERAGE |
| Website | $300-$1,500 | $900 |
| Raw Material | $100-$300 | $300 |
| Equipment | $500-$1,500 | $3,000 |
| Packaging | $400-$2,000 | $750 |
| Marketing and advertising | $500-$3,000 | $1,750 |
| Insurance | $350-$500 | $375 |
| Software | $250-$600 | $625 |
| Licenses and permits | $200-$1,000 | $950 |
| Miscellaneous | $300-$600 | $450 |
| TOTAL | $4,000-$15,000 | $10,500 |
To keep a business running, it needs to pay for things like the monthly salaries of your staff, advertising and marketing, and other operating costs. They are usually paid once a month, three times a year, or once a year, depending on what your contract with the client says.
A rough estimate says that a business that starts out making 20% profit will need between 12 and 18 months to break even. During this time, you'll spend more than you make because you might need to hire more people to keep up with demand.
So, when you're planning your business, it's a good idea to add up all the monthly costs you'll have to pay.
The things you use for your business, like ingredients and packaging, are part of your ongoing costs. When you want to make your products better, these recurring costs will go up. Some of the costs that go along with this are research and development, production, packaging, marketing, and shipping.
Step 5: Assemble a Team of Experts
It takes time to build up your business. You'll need to hire people, buy equipment and other supplies, and pay vendors. When things get hard, you'll also need a strong team behind you.
Once your business is up and running, you'll need people to work in it. That's because
A quality control expert to make sure that your treats are up to par.
A customer service rep who will answer calls from customers and take orders from distributors on the field.
An expert in marketing who can help with marketing strategy, marketing materials, and advertising on social media.
Someone who will sell your products to retailers and wholesalers.
A bookkeeper to help with accounting, billing, and payroll.
One of the most important parts of starting this new business will be putting together a team. It helps to have some people on your team who have run a business like yours before.
It also helps to have a good network of people you know. Some people like to start from scratch when building their business, while others like to use what they already have.
Step 6: Expected Income from a Dog Treat Business? Facts & Figures
How much money can you make selling dog treats? A nice bag of dog treats will cost you about $10. If you work from home with supplies that don't cost too much and sell through your own website, you should make a net profit of 60%. In the first year or two of your business, you might sell more than 100 packets of dog treats every week.
This would bring in more than $56,000 a year and make a profit of about $38,000.
Once you've built your brand, selling 300 packets a week could bring in $132,000 a year and make you more than $95,000 in profit.
If you can save enough money, you might be able to open a dog patisserie that sells high-quality, homemade treats for $15 per package. If you rent a place and hire a few people, your profit margin will drop to 30%. But if you sold 400 packages every week, you'd make $390,000 in sales and gain $150,000.
Step 7: Analyze Your Target Market
Before you start a business making dog treats, you will need to figure out who you want to sell them to. This step is important because it lets you figure out who your customer is and what needs your product will meet for them.
In the business plan for dog treats, your target market is people who own dogs. You will need to do research on this market to find out what they buy, what kind of dogs they have, and why they buy dog treats.
For example, you might find that most of your target market is made up of health-conscious dog owners who want treats for their dogs that will help them stay healthy. With this information, you can change the products you sell and the way you market them to better appeal to your target market.
There are many ways to find out about your target market. For example, you can learn more about your target market by using online tools like Google Trends and social media platforms. You can also survey or talk to dog owners to find out what they think firsthand.
By looking at this data, you can figure out what features you need to add to your product to make it more appealing to different types of customers.
Step 8: Decide on a Location for Your Physical Business
You can save money by starting your business from home at first. But if your business grows, you will need to hire more people to do different jobs. You may even need to rent a manufacturing unit or a store that sells pet treats. Sites like Craigslist and Crexi can help you find places to rent for your business in your area.
Here are some general rules to follow when looking for a property for your business:
• Discuss with a Real Estate Agent
Find a real estate agent in your area who works with commercial properties and is willing to help you in your search. The real estate agent should also be able to tell you about any zoning rules, which will help you decide if your business can work there.
You might be able to buy commercial property like a warehouse or office building if the rent is low enough over time. You can set up your business there, save money on rent, and benefit from tax breaks.
Look for a Lease
One of the most common ways to run a business from home or an office is to rent. You might also be able to rent a space or find a business that needs to move out.
But make sure the property is right for the kind of business you have. For example, if you want to start a business that sells treats for pets, the property should be near homes or in a pet-friendly area, like a shopping mall.
Step 9: Think of a Name and Register Your Business
This part is pretty simple. Just come up with a name that is catchy and tells people what they will get when they buy from you.
The name needs to be short enough that people can remember it when they're shopping online, but it also needs to be catchy enough that they won't forget it when they're in the store.
You could name your business after your pet, a member of your family, or a well-known person. You could also pick a name that rhymes or has a clever play on words to spice up your business.
In order to pay taxes:
Register your business
Create a business bank account
Also, be smart about how you set up your business, because that could affect how much tax you have to pay when you file. A sole proprietorship, for example, needs the least paperwork and can be used for any kind of business. LLCs and C corporations need a lot more paperwork and can only be set up for business reasons, not for personal ones.
Step 10: Create a Business Plan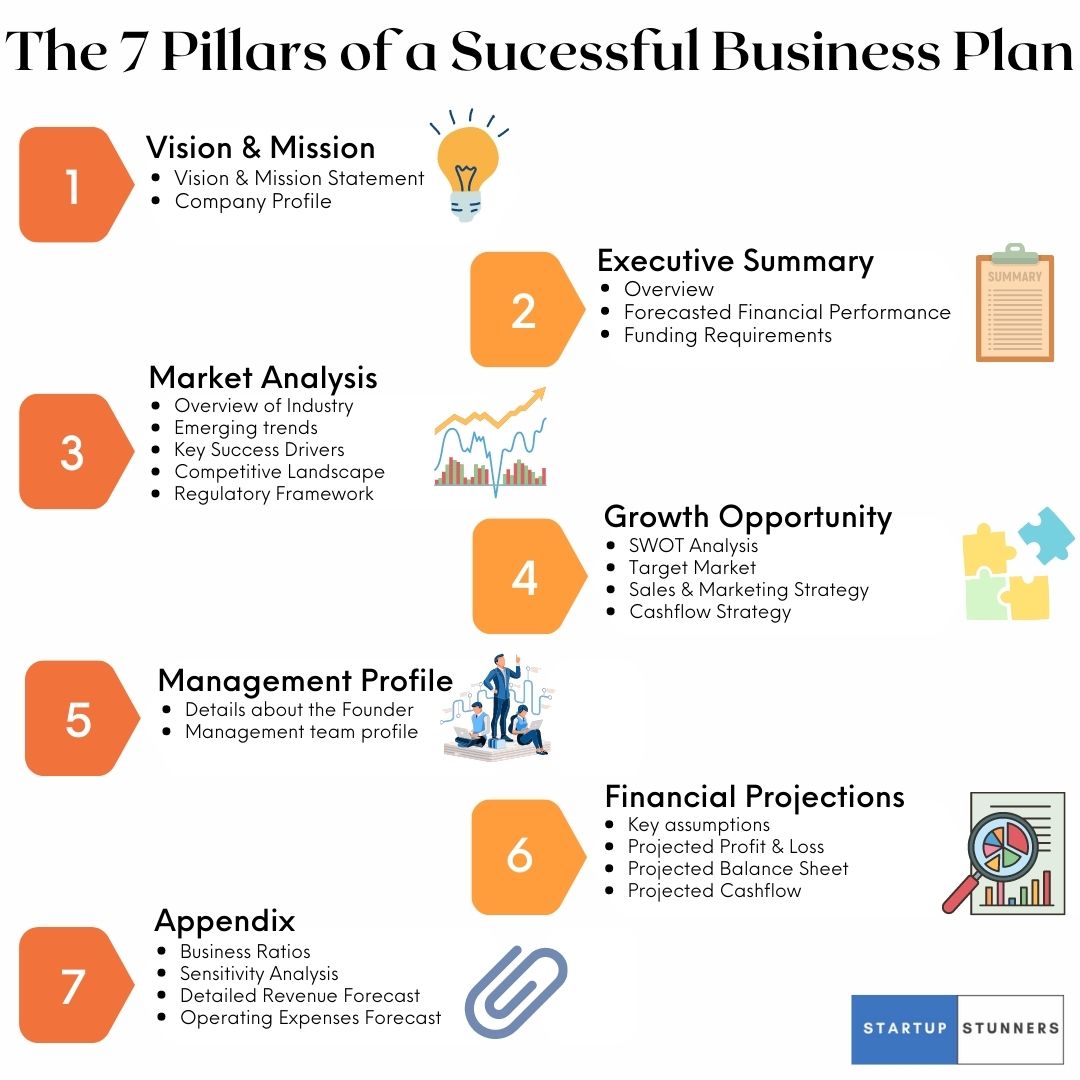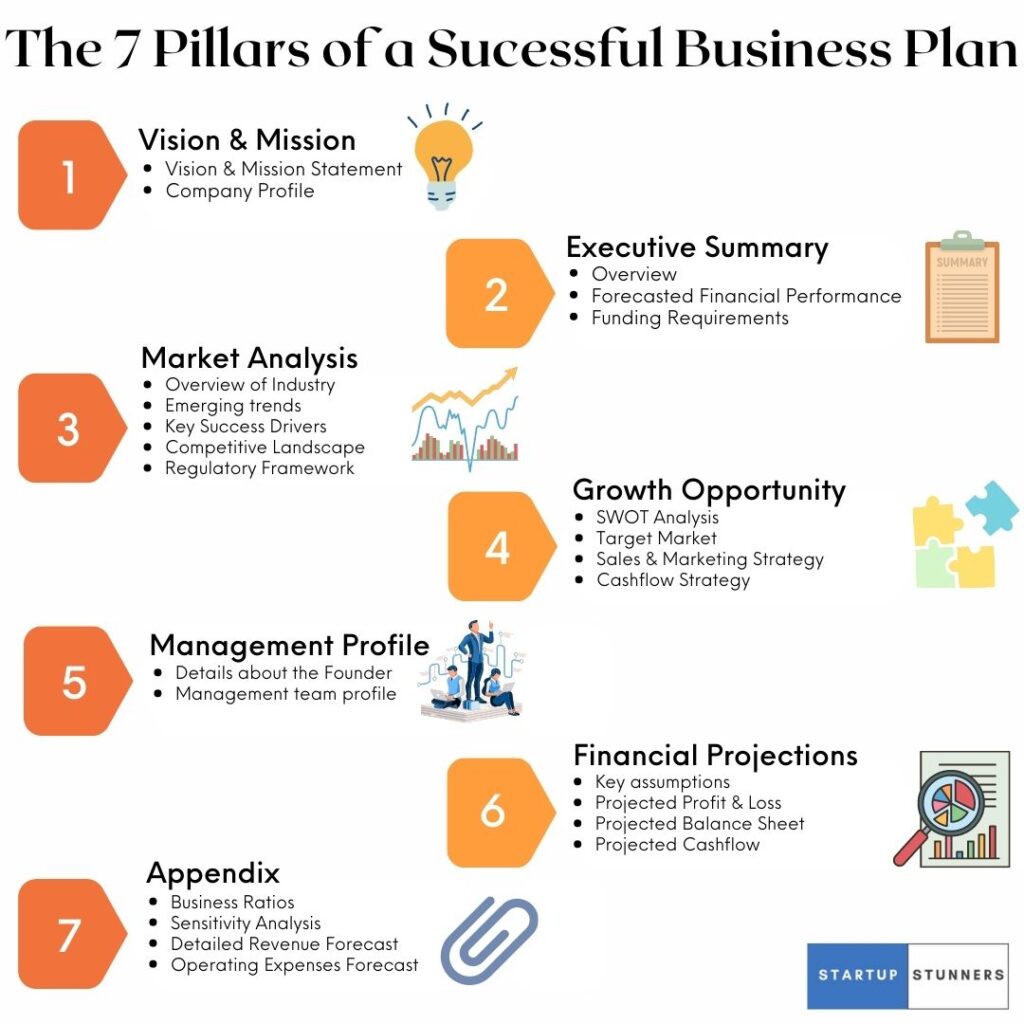 A well-thought-out and properly produced Multigenerational Business Plan is required before launching any business. Typically, investors want to see a detailed business plan outlining the company's goals, strategy, and predicted financial performance. A well-written and comprehensive business plan can show an investor that the company is well-managed and has a good probability of success.
To create a professional Business Plan, you will need the assistance of a Business Plan writer who can create this strategic document that will ultimately help you surpass your competitors. Startup Stunners has been providing Business Plan writing services for numerous years, and you may inquire about our services by visiting startupstunners.com/contact-us/
Step 11: Get the Money You Need to Start Your Business
When you decide to start a new business, the first thing you need to do is get the money you need to get going. In this section, we'll show you how to figure out if you need more money or if you already have enough to cover start-up costs.
It all depends on your personal situation, so let's start by giving an overview of both options. Then, we'll take a closer look at how you might use each one to fund your new business.
1) Invest Your Own Money
This option is great for businesses that are already doing well and making money, as well as for new businesses with a good track record and good chances of success. It's also great if you have other resources, like family or friends, who are willing to help support your business.
If neither of those options sounds good to you, you could try going straight to investors. With this choice, you have to make a pitch deck to show investors why they should invest in you. Investors want to put their money into businesses that will give them a return, so be sure to show them that your business will do this.
The good thing about this is that you can often make more money than you put in. You can use the extra money to pay back investors or put it back into your business. But selling assets comes with risks, like losing out on the value of what you're selling and having to meet the sale price when the market drops.
Most of the time, it costs a lot to borrow money from your own bank, but you can get better terms from other lenders. For example, an SBA loan is a type of loan that is made just for businesses.
Step 12: Request Licenses and Permits
To start a pet treats service, you need to get a number of licences and permissions from local, state, and federal agencies.
In most states, you need a business licence to sell dog treats. In addition, you'll need to find out if your city or state requires you to have a commercial kitchen and a production licence. Your business may also need to be looked at in a formal way.
You can only sell your dog treats in states where you have a business licence. No one organisation has the power to give you blanket permission to sell your products in all states. Your state or local government may require you to register any dog treats you want to sell.
It's a good idea to keep up with the Association of American Feed Control Officials if you want to know what licences and permissions are needed in every part of the United States.
For your business to get started, you need to get:
Federal Doing Business As (DBA) permit
Health license or permission from OSHA
Trademark, copyright, patent, or other intellectual property protections
Any necessary industry-specific federal licensing or permits.
For example, you may also need a permit or licence from the state and the county or city where you live. Visit the websites of your state, city, and county governments or talk to the right person to find out how to get a licence in your area and what the rules are.
Even though breaking the law can lead to bad things, you shouldn't lose hope. If you're feeling stressed or don't know how to start this process, make sure you've checked all the important areas before you begin.
Step 13: Get Business Insurance
Without insurance, your business won't be able to run. You'll need workers' compensation and liability insurance to protect your employees, customers, and equipment. You should also look into commercial auto insurance, since you will probably need it for the trucks and trailers that deliver or pick up your inventory.
Here are some things to think about when looking into insurance for a small business, which your insurance agent can help you with:
This service is not free. Some businesses must pay $250 a month, while others must pay less. Most companies' policies are set up to be renewed every 2 years. You might need to talk to your lawyer or accountant about your insurance policy to make sure you are fully protected.
Step 14: It's Time to Go!
Now that you've made all the decisions and gotten ready for the road ahead, it's time to take your business to the next level.
But don't just use templates to build your site. Think about what you want to achieve and make it fit your brand and the people you want to reach.
To keep users interested and turn them into customers, you'll need a website with an SEO-friendly URL structure, a responsive design, clear navigation, and clear call-to-action buttons.
You should also make sure that your SEO strategy is based on best practises. That means making sure that your content is optimised for keywords so that it shows up on the first page of Google's search results.
Once you've made your website, you'll want to use the best tools, like Google Analytics, to make it work better.
Use Google Analytics to find out where your site's visitors are coming from, what pages they look at, and how often they come back.
In short, if you want to sell your product or service in more than one place or to more than one customer at a time, you should make a website. With a website, you can advertise yourself or your business to thousands of possible customers at once. But if you don't know much about technology, you can hire someone to help you build and design your site.
● Go for the Best Marketing Strategies
Now that you have a business that is doing well, you need to market it like crazy. To get the word out about your new business, you need to figure out who your target market is and what they'll need from you.
Marketing comes into play at this point.
When you're ready to go live, you need to find ways to get more people to visit your website and keep them coming back for more.
In fact, many businesses spend up to 30% of their advertising budgets just on getting people to their websites. So building your brand online is the best way to get the word out about your business. Social media can also play a big role in this strategy.
The best thing about social media is that you can use it to get your business and yourself a lot of attention. You can reach and work with potential customers in a lot of different ways if you use the right platform and strategies. This can be as simple as giving good customer service or selling products through affiliate links to bring in new money. Facebook and other social media sites make all of these things possible.
As your business grows, you should have a clear picture of what it stands for and who it serves. How you describe it can have a big effect on how well it does.
Is the business small or a franchise, or is it both? What is the company's unique selling point, or niche? Do you only sell one type of item, or do you have more than one? How does your business fit in with the rest of its kind? Anyone should be able to understand what a brand does.
The better you know who you are and what you do, the easier it will be for others to do the same. This will make you stand out in the market and help you do well.
Step 15: Challenges to Consider
This is where we get to the meat of the matter. When you start a business, there are many things to think about. It's not enough to just come up with a cool product and put it on the market.
Many problems that business owners face don't become clear until after the business is up and running. There are always legal, HR, and accounting problems that need to be solved, as well as financial problems. If you want to start your own business, you should do some research to make sure there aren't any big problems with that.
For example, if you own a business that sells dog treats, it's important to know the laws that apply to your industry. Some products may need a licence or some other kind of approval. If there are any problems, like possible health risks, that need to be fixed, do some research to find out what needs to be done. You might also have trouble with market saturation and how your product's price compares to that of competitors.
Even though all the problems may seem scary at first, they will all seem less important once you can say you really have your own business.
Frequently Asked Questions
Do Homemade Dog Treats Sell Well?
Several things can affect how well you do when selling homemade dog treats. The most important thing is how good your ingredients are. You want to make sure they don't have anything in them that could hurt your dog. But they shouldn't be too expensive if you use the best ingredients you can find.
The packaging is also very important, since customers often decide whether or not to buy something based on this alone. People can get a bad taste in their mouths if the packaging isn't good.
Some of the main things in dog treats are peanut butter, nuts, fruits, oats, honey, and corn flour. You should also eat more organic foods and less food that has added chemicals. A smart move is to look at YouTube videos to see which ones get the most views.
How Do You Package Homemade Dog Treats?
Before you decide to sell dog treats, make sure you know how to pack them in a way that is safe and clean. When making treats, you don't want to get chemicals or other things on the ingredients, so you might need to buy special packaging.
How you package something is up to you. You could use mason jars or even small containers from the grocery store. If you want to sell your products online, you might want to package them in a way that makes them look more appealing.
Can I Make Dog Treats at Home and Sell Them?
Yes is the answer. You can only do this, though, if you have the tools to make the treats. To make a good dog treat, you will need to spend money on the right tools and ingredients. This means you'll have to pay more up front, but in the long run, you'll save time and money.
If you like working with your hands and want to do a project that you know will be fun and rewarding, you could try making homemade treats. But be aware that there are hundreds of different recipes out there, and not all of them will work well for you. Also, dog owners aren't always the best people to decide if their pet is getting enough food.
Do You Need a Commercial Kitchen to Make Dog Treats?
When starting your own business, it's important to think about whether or not you'll need a commercial kitchen to grow.
If you want to make a small amount of treats in a small kitchen meant for a family, you may only need to make one kind of treat at first. If your business has the potential to grow and add more products or flavours, you should think about whether you need a bigger kitchen to help you reach your goals.
Do Dog Treats Have to Be FDA Approved?
The Food and Drug Administration doesn't have to approve treats before they can be sold (FDA). But the state requires that they be labelled "DOG TREAT" and include a list of ingredients and directions on how to use them.
Conclusion
The business of making dog treats is huge and growing all the time. There are even a lot of new businesses that sell treats for pets.
Some of them are great, but others just say things that aren't true. And that's why it's important to do your research so you can start a business that actually works for you.