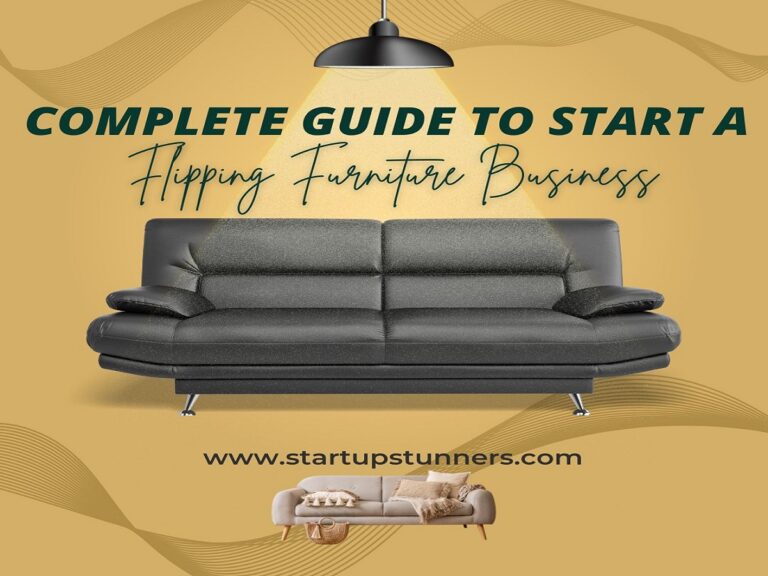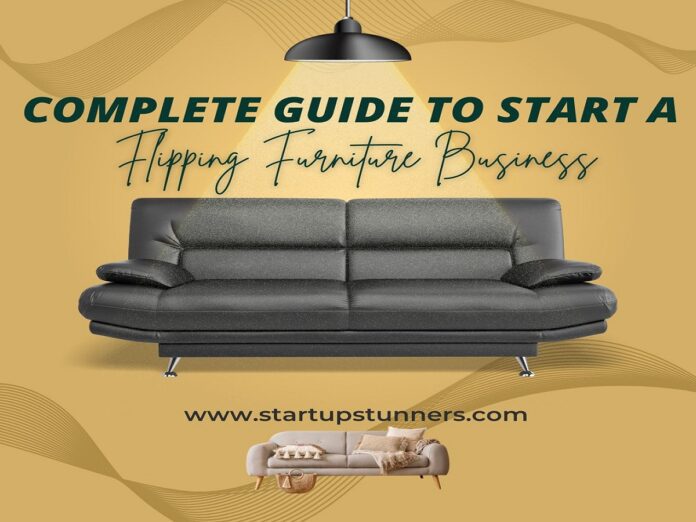 In a world where traditional jobs are being replaced by automation, finding employment is becoming increasingly more challenging. The result? An increasing number of people are needing a part-time income source to help cover their expenses and create a stable source of extra money.
For many, this is no easy feat. It is a well-known fact that people have a hard time getting rid of old furniture, so why not use it to make money? If you have a knack for interior design, a love for furniture, and some time on your hands, you may be interested in starting a flipping business. But starting your own furniture store isn't easy.
To get started, you need to do a ton of research and planning, know how to make the right decisions, and learn how to sell to people who care about quality and style.
That's why we researched and put together this comprehensive guide to help you start your own flipping furniture business.
What do We Mean by Flipping Furniture Business?
Furniture flipping means taking items that aren't being used or wanted anymore and selling them for a profit on sites like eBay or Craigslist. These items can include anything from old beds, couches, tables, desks, chairs, dressers, and more. It's a very simple concept, but it has become very popular. It sounds like an easy way to make money, but it's not as easy as it might sound if you do not have the right information.
Is Furniture Flipping Business Profitable?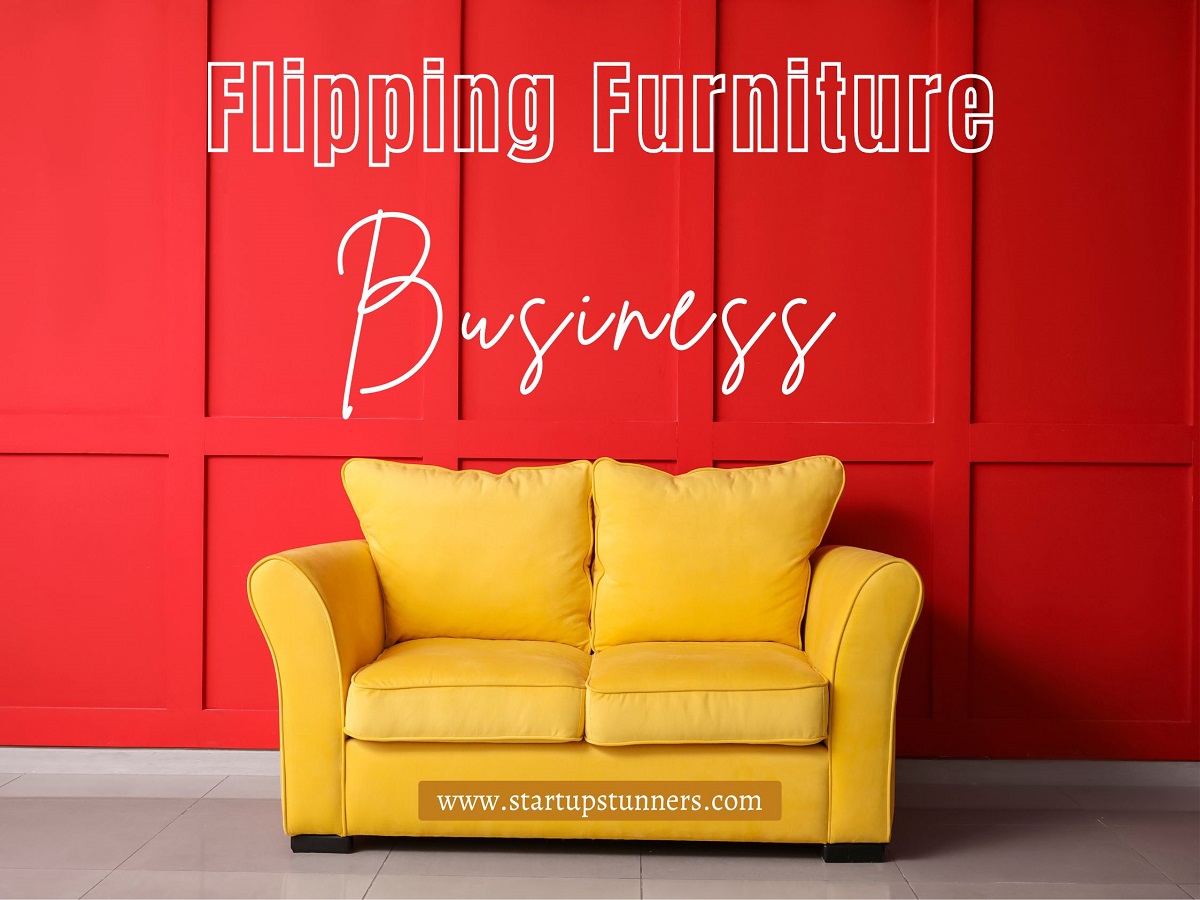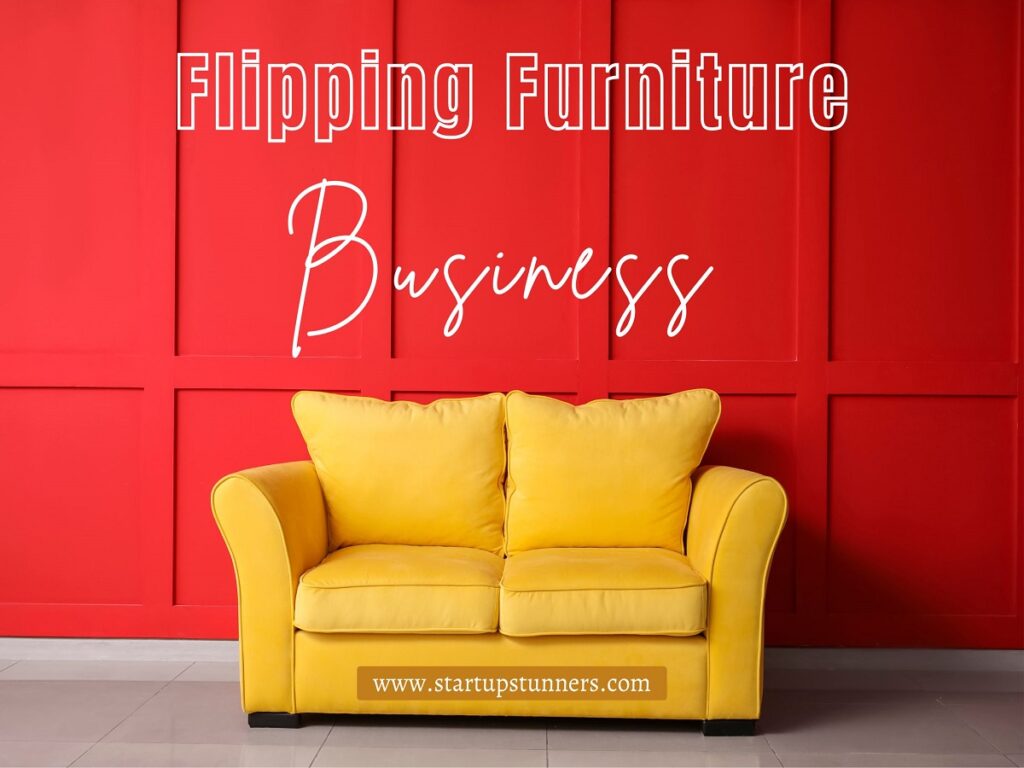 It depends on what you are selling and how much effort you put into the business. If you are looking to flip furniture for a profit, you should do your homework on a specific item first, as this will tell you whether it is worth investing in or not.
Some items will be worth the time and effort to flip, while others won't. If you find the item you want to buy doesn't have a huge profit margin, then don't waste your time, as you will lose money with the process.
Is furniture flipping a good business? If you are just starting out, your main priority should be creating value by providing a great service or product. Most people who try to flip furniture fail because they underestimate the amount of work it takes to make money off of it.
Just having a good idea isn't enough; there are also a lot of strategies and hard work behind every successful business, and you have to know exactly how to do everything else to succeed.
What Are the Sources to Get Flipping Furniture From?
There are two primary ways you can acquire flipped furniture: one is by going to a thrift store and buying things that are already "flipped." The other method is buying furniture from Craigslist people, fixing it up, and selling it yourself. This latter method is also known as "furniture rehabbing" or "rehabbing" furniture. Both methods have pros and cons.
Other sources include flea markets and garage sales. You may be able to find some items at these events for free or for a small price, and there's nothing wrong with trying to get free things. However, it's important to check out the rules and regulations at the places where you find items because they may charge you a fee for their use.
Amazon, eBay, Etsy, Craigslist, Kijiji, and other similar websites often have user forums where you can ask questions about what you're buying or how to best use your items.
Flipping Furniture Business
What Type of Furniture Should You Prefer for Flipping?
Are you wondering 'what is the most profitable furniture to flip?'. Here is the answer.
Cheap items that are still in good condition High-end pieces! That's right – you should get the cheapest pieces first because this is going to be your entry point into the business. The reason why is because it's going to cost you less to buy cheap furniture than it is to buy expensive ones. So, by purchasing cheap items, you are going to be able to get started faster and with fewer upfront costs.
A sofa bed is a perfect item to start with because they are often priced under $500 and can easily be found on Craigslist or other online marketplaces. If you are just starting out in this business, then it will be much easier to find items like couches, tables, and chairs that you can start selling for a profit.
While you could technically sell any type of furniture, these are the two most common types of furniture that are flipped, so it helps to know what to expect with each. Wood furniture is typically heavier and more solid than metal furniture. It takes longer to ship, and sometimes it needs to go through customs.
With metal furniture, it is easier to ship, and it's often a little cheaper too. These items include beds, tables, desks, cabinets, etc.
Items like futons, beds, and end tables are perfect because they can easily be restored to their original condition. In other words, you won't have to spend much time and energy to restore them to their former glory.
Furniture that is damaged, torn, stained, or in need of repairs is usually a no-go for furniture flipping. The reason is that most buyers want to purchase items that are in good condition. However, you can sell the damaged items at flea markets, yard sales, and more.
What Supplies Are Required to Flip the Furniture?
Make sure you have access to a truck, van, or trailer that will allow you to haul the items you want to sell. If you don't have one of these, you'll have to hire someone to drive you there.
● Reupholstery & Restoration Equipment
This is probably the most important part when it comes to furniture flipping because you will need specialized equipment to restore these items properly. You will likely need some basic upholstery supplies such as an upholstery needle, sewing thread, spray adhesive, and a staple gun.
A fabric cutter is another tool that could come in handy. If you're selling the item with the original upholstery, you might also want to purchase a steam cleaner to clean out the stains and other issues. Paints and other products may also be required depending on the type of product being restored.
What will be the Startup Cost in this Business?
There is no definite answer to this question; depending on which type of business you are getting into and how many pieces of furniture you intend to sell, you will have different startup costs associated with your venture. The startup costs for a furniture flipping business can range from $11,000 to $30,000. The most common expenses for the average business are in the detail below:
Equipment & Supply Expenses
| | | |
| --- | --- | --- |
| Cost | Minimum | Maximum |
| Cleaning Supplies | $83 | $300 |
| First-aid Equipment | $10 | $1000 |
Inventory Expenses
| | | |
| --- | --- | --- |
| Cost | Minimum | Maximum |
| Inventory Storage | $0 | $3,000 |
| Package Design | $50 | $3,000 |
| Shrinkage | $0 | $2,000 |
| Distribution costs | $10 | $650 |
Software Expenses
| | | |
| --- | --- | --- |
| Cost | Minimum | Maximum |
| Email marketing tool | $0 | $400 |
| Accounting & Invoicing Software | $50 | $50 |
| CRM Software | $12 | $500 |
| Project Management Software | $100 | $25 |
| Design Programs & Software | $0 | $50 |
| Social Media Management Tools | $0 | $100 |
Website Costs
| | | |
| --- | --- | --- |
| Cost | Minimum | Maximum |
| Domain Name | $15 | $500 |
| Business Email Hosting Service | $10 | $20 |
Specific Industry Expenses
| | | |
| --- | --- | --- |
| Cost | Minimum | Maximum |
| Handyman Tools | $0 | $723 |
Advertising & Marketing Costs
| | | |
| --- | --- | --- |
| Cost | Minimum | Maximum |
| Business Cards | $53 | $70 |
| Local fairs and festivals | $20 | $500 |
| Direct Campaigns, Printing and Mailing | $10 | $300 |
| Affiliate Marketing Commission & Fees | $0 | $450 |
| Influencer Marketing | $0 | $751 |
| Press | $5 | $500 |
| Google Ads | $0 | $650 |
| Facebook & Instagram Ads | $0 | $210 |
Office Space Expenses
| | | |
| --- | --- | --- |
| Cost | Minimum | Maximum |
| Rent | $0 | $6,750 |
| Utility Costs For Office Space | $0 | $1,140 |
| WiFi & Internet | $0 | $180 |
How Much Money Do Furniture Flippers Make?
That depends on how much time you spend on research and sales. There are countless stories of people making thousands of dollars every month by flipping furniture business, so making a profit is possible. The key here is to find a reliable company, have the best products, get good feedback, and use other people's experiences to learn what works and what doesn't.
,000 per month, depending on how much time they spend on their business and how much effort they are willing to put in. The majority of people use eBay or Craigslist to sell their furniture and make a profit.
How to Set the Right Price?
Furniture is a big purchase. But if you price your furniture too low, it may be worth less than what you expected. And if you price it too high, you could have trouble finding someone to buy it. So, how do you know what to charge? There are three major things to consider when setting a price:
Condition
Size
Features
When setting the right price for your furniture, you want to consider the furniture's condition, size, and features. The condition of your furniture is important because if it is in good condition, you will be able to get higher bids. This is especially true if your furniture is solid wood.
How & Where Can You Sell the Flipping Furniture?
There are different ways to flip items, so what is right for you depends on your skill set. Here are the most common options:
1. Post Your Items on eBay and/or Craigslist
This is one of the easiest ways to sell your items as people can browse the website to look for the things, they are interested in buying. If you do decide to sell your furniture through this method, make sure you list the item clearly. For example, you should write "Used and in good condition, $50" so potential buyers know exactly what they are getting.
2. Sell on Facebook Marketplace
Facebook now has its own marketplace where people can buy and sell items directly through Facebook. To start, create a free seller's account, then upload photos of the product you want to sell and specify its current condition and any issues you may see in the product itself.
The advantage to this option is that it allows you to sell to people locally (i.e. near you), which is helpful for those who want to sell their stuff locally. However, the disadvantage is that you may have to pay to get your ads promoted, depending on how competitive your area is for these kinds of items.
Antique shops are actually quite good sources for flipping furniture business. Plus, you get to work in a shop where you can actually see what you're selling. This is perfect because when you first start out with flipping, you're going to need a lot of practice with your inventory. The more you can see beforehand, the better off you'll be.
This method of selling is also referred to as online only because you will be doing all the selling directly from your own website
With so much content out there on the web, people often think this is an impossible dream to come up with your own website and still be successful. For example, how can you stand out from the millions of other websites on the internet that is trying to do the same thing?
The answer is quite simple. There are two ways you can go about this. The first way is to find a niche market that is not being fully exploited yet. This could be anything from a certain style of furniture to a certain type of customer. Once you have found your niche market, you need to build a website that is designed specifically for them. This means finding the right hosting, registering a domain name, and creating content that appeals to your target market.
The second way to make sure you have a successful online furniture business is by offering something unique that no one else is offering. This could be a new way to refinish furniture, a new style of upholstery, or even a new type of customer service. Whatever it is that you offer, make sure it is something that people cannot find anywhere else.
Hence, it's relatively easy to get up and running if you have a computer. The initial cost is pretty low if you pick up a cheap domain name through one of the many sites available.
Once you're set up, you'll need to spend some time learning how to search for and sort the content on your site. If you're going this route, you have to build up a lot of traffic to your site before you start making serious money.
Social media is not just about your friends and family members; you can also market your business social media sites. If you create a good following, people will be willing to pay to advertise products and services to you. Some ideas are Facebook ads, Twitter ads, LinkedIn ads, Instagram, Pinterest, etc. that have become a platform to showcase content and connect with audiences.
How Do I Start My Own Flipping Furniture Business? Step by Step Guide
Step 1. Start with Creating a Business Plan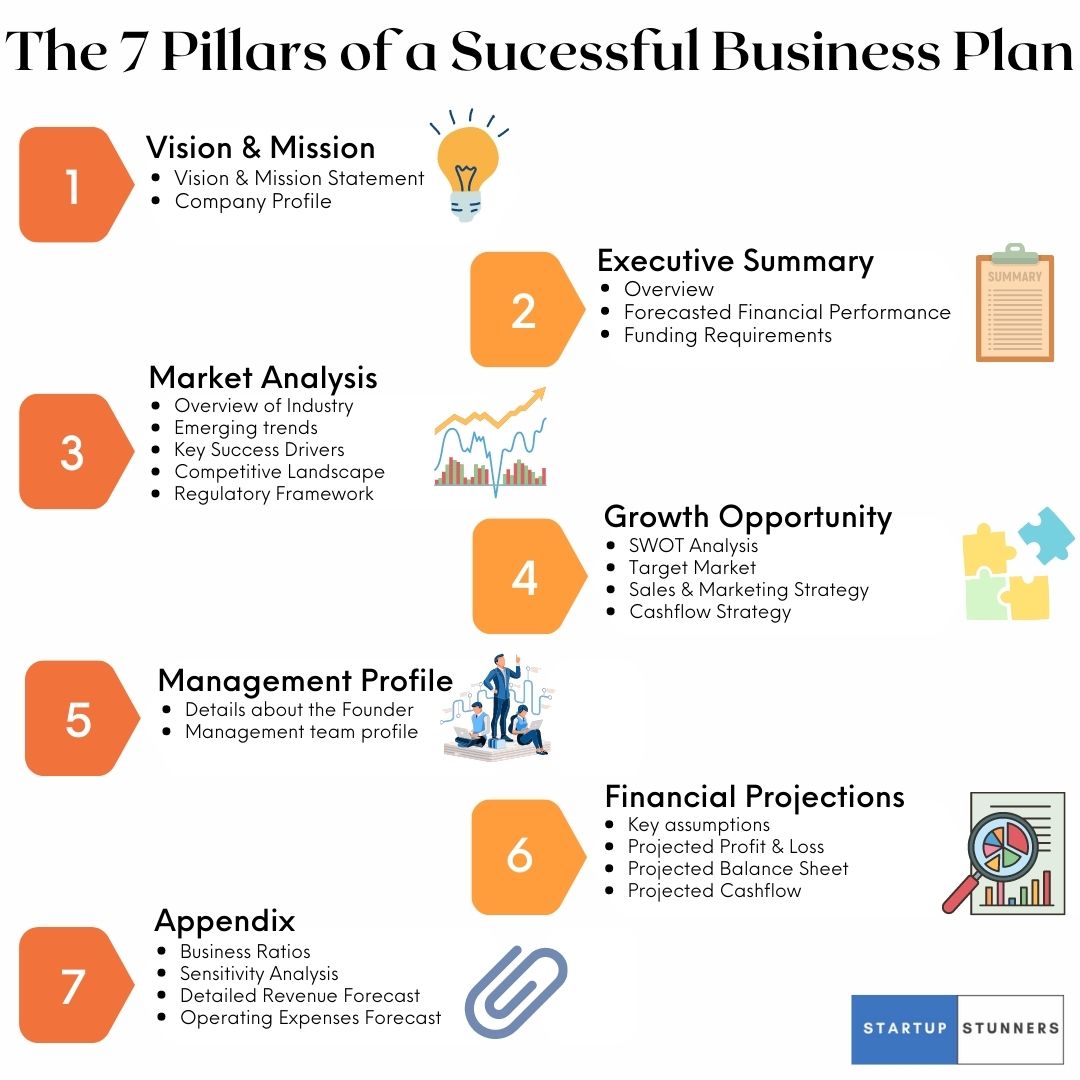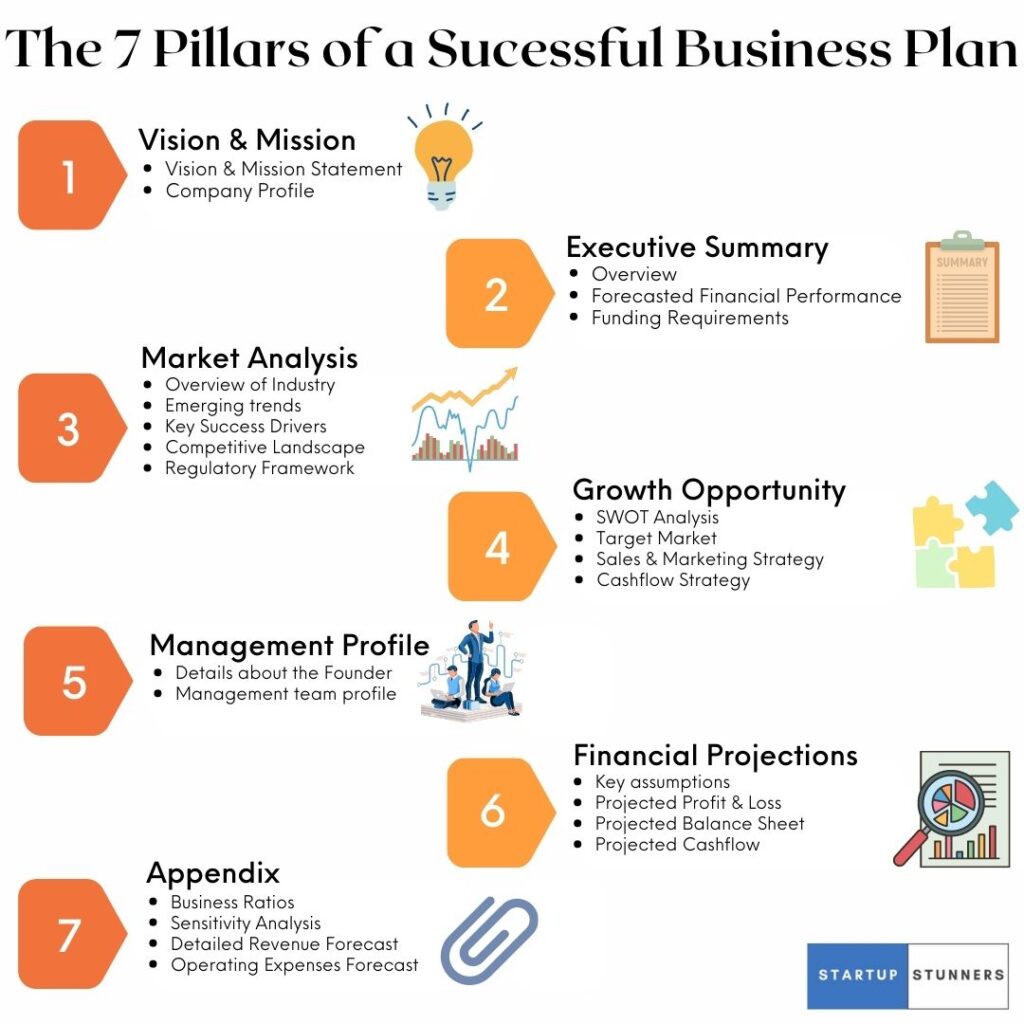 For starting any Business, a well thought-out and professionally drafted Multigenerational Business Plan is essential. Investors typically want to see a detailed business plan that outlines the business's goals, strategies, and projected financial performance. A well-written and thorough business plan can demonstrate to an investor that the business is well-managed and has a strong chance of success.
To prepare a professional Business Plan, you need an expert Business Plan writer who can design this strategic document that will ultimately support you to outperform your competitors. Startup Stunners has been providing Business Plan writing services for the past several years and you may also consider acquiring our services by contacting our team of experts at startupstunners.com/contact-us/
Step 2. Get Funding for Your Business
Even if you have a solid business plan, securing financing for your startup is still important. It may help to have some sort of working capital to support your operations. This is a good time to take out a Small Business Loan or a home equity line of credit.
To get these loans, you need good credit. But you can also work with a peer-to-peer lender. These are lenders who fund small businesses and startups in exchange for equity in those businesses.
Consider writing a business plan to present to potential investors. A to-the-point business plan can make all the difference. A business plan is a critical part of any business, yet many people choose to forego this essential step when starting their own business. A good business plan can bring you the right investors and help you secure the financing you need to get your business off the ground.
Step 3. Define Your Business Structure & Name
To make a successful business, you need to define your company's structure, trademark name, and corporate name. These three things are often interrelated. A bad decision in one of these areas can derail your entire business plan, so don't take the chance.
Also, be sure to trademark or copyright your logo or brand. You may also consider having your business incorporated. How about setting up as a corporation or sole proprietorship?
Once you have decided on your business structure, then it is time to select a name for your business. It is very important to keep your name short, simple, and easy to spell, otherwise you will spend much of your time in legal hassles.
The name you choose should be able to attract your ideal client base and will need to work well in your local market. There are many companies and organizations that offer great services such as name generator tools to help you find the perfect name.
Step 4. Register Your Business
To protect your business (and yourself), you'll need to register your business with your state. Be sure to research the requirements for furniture flippers in your area. For example, you'll need to obtain a business license and possibly a resale certificate for U.S. businesses. This can be done online or through your local county clerk's office.
The best option, however, is to contact your local city hall. Many cities have an Economic Development office to help you. You also have to consult a business attorney to make sure you are compliant with all current laws and regulations.
Step 5. Create a Business Bank Account
You will need a separate bank account just for your business. This way you won't be paying for personal expenses with business funds, and the IRS won't consider the business income you earn to be yours alone. Find a financial institution that allows online banking.
There are many options, but all of them work the same way. Sign up for an account, deposit a certain amount of cash or check the account online and transfer money to/from other accounts.
You will use this account to pay bills, file taxes, and keep track of your earnings. Make sure you open a business bank account because you'll need access to this account whenever you're making deposits or withdrawing cash.
Step 6. Start Taking Orders & Get Paid
Start taking orders and delivering them carefully. Do not forget to offer deals and discounts and keep an eye on how people respond to your offers. Also, ask them to leave reviews.
Remember, though, it will take a lot of patience and persistence to see results in this business. The competition is fierce on all of the online marketplaces. You'll have to work hard to bring in new clients. Once you start raking it in, it can be pretty exciting!
Tips for Making Your Furniture Flipping Business a Success
● Analyze Current Market Trend
What's the current market trend? Are people buying more couches than they ever have? Are there particular trends in the types of furniture that people are buying? There is an entire industry built around answering questions like these, so the first step you want to take is to find out which pieces of furniture are selling the best.
If you don't know what's selling right now, that's okay—this isn't an exact science. You can do extensive research by browsing online furniture retailers to get a feel for what people are buying or by visiting local furniture stores and seeing what's popular in person.
There are so many different categories that it can be hard to decide which one to focus on. That is where your knowledge and experience will come into play. The key is to look at what people are looking for and then go and find those things.
Don't be afraid to go outside your normal market niche and look for trends that will let you make better profits. As long as you are knowledgeable about the trend, you can successfully flip some furniture.
● Avoid Taking the Very First Offer That You Get
Many newbie furniture flippers are all too willing to take the first deal they come across because it's the easiest one. However, it is important to try to wait for offers that are slightly higher than what you can get elsewhere. This will allow you to maximize your profits and make sure you aren't losing out on too much money. Keep track of your sales and see which items sell at the best prices.
So, do not get overwhelmed when you start seeing many offers. Keep on top of things and soon you'll be able to turn any item into profit with ease.
● Take a Bite Out of Your Supplies Bill
When running a small business, every dollar counts and cutting expenses is always a good thing. However, there are some supplies you will just have to spend money on no matter how little they are used. When you're starting out, it's not always clear whether you'll be in the market for the high-end supplies or the low-cost supplies.
When deciding which ones you'll need, be sure to account for things like the quality of your work. A low-end paintbrush or high-end paintbrush will both do the job. However, a high-quality brush will last you longer than a cheap brush and can even save you money in the long run.
With the economy still not exactly in the best shape, we all want to cut back on spending. However, when you go out to buy new items, there is usually a hefty price tag that gets added onto it at the end of the day. Instead of getting into that habit, take a second and find out what items you already have.
● Set an Affordable Price at First
There is no secret here. A low price will attract more buyers than a higher price. So don't overprice yourself. In fact, it can be good to start with a lower price, even if you are making a lot less money.
The goal is to create a bidding war, which drives up your profits. If you want to flip furniture for profit, you need to understand two things: how to determine value and how to get the maximum return on your items. Both of those are part of a larger strategy in how to maximize profits when you're flipping.
In short, to get an idea of how much furniture you should be pricing at, you need to consider both the current market value and how much your items are going to bring back in the future.
However, when you sell furniture online, you will have to take delivery charges into consideration when calculating your profits. If the distance between you and your customer is great, then you might have to pay extra to deliver the product, which can be a big problem.
Hence, you need to factor in the cost of delivery charges, which vary depending on where you're located. If the buyer is far away, this might increase the total cost of your item.
● Adopt Strong Marketing Tactics
Even if you think there is only one person in your town that would be interested in buying your furniture, you should still market.
While there are no guarantees in business, there are plenty of things you can do to ensure you don't fail when starting a new venture. While marketing online is always important, it will be even more vital for you to get your name out in front of people when you start your own furniture flipping business.
Get all of your social media accounts up-to-date, optimize your website so that it converts well for search engines, and try to connect with people in your local community through local events, businesses, and organizations. This is especially important if you want to really take off.
Frequently Asked Questions
Is There Money in Reselling Furniture?
Of course there is! Selling used items can be one of the most profitable ways to make money online. The main trick to making this business work is finding items to resell. Why people fail at this is because they purchase items and don't ever resell them or keep them for long enough. This is a mistake! When someone buys something, they are willing to pay more than the item is worth. Take advantage of this fact and find items to sell for top dollar.
Is buying and reselling furniture worth it? There are many ways to make money reselling furniture. You can set up your own business, find other people who want to resell their furniture, or work for a company that sells pre-owned furniture.
What Is the Most Profitable Furniture to Flip?
Coffee tables, baby furniture, bedroom sets and sofas are all popular furniture to flip as they don't require any fancy finishing techniques. All you need is some good old-fashioned elbow grease and patience! You'll be amazed at how much cash you can make off a piece of furniture once you learn a few basics.
Do You Need Any Furniture Flipping Course to Get Started?
No, you do not need any course to get started flipping furniture business. You could take an online course if you want, but plenty of free resources can teach you everything you need to know. The most important thing is to have passion for this kind of work and be willing to put in the time and effort to learn as you go.
Conclusion
A new business takes a lot of work and commitment. You'll need to invest both time and money to ensure that you can sustain the growth of your furniture flipping business over the long term. Don't be discouraged by the amount of hard work that comes with starting a business. It's all worth it once you see how well your business is doing. Startups are an exciting option for anyone looking to go into business for themselves.