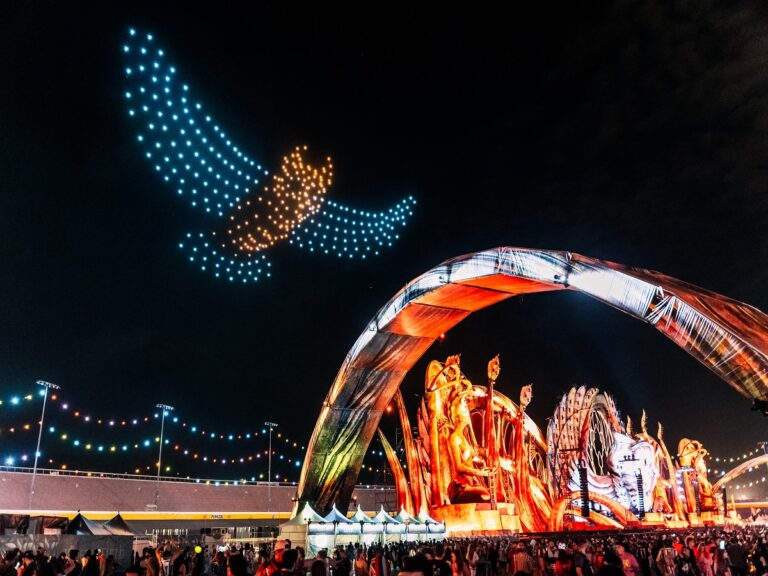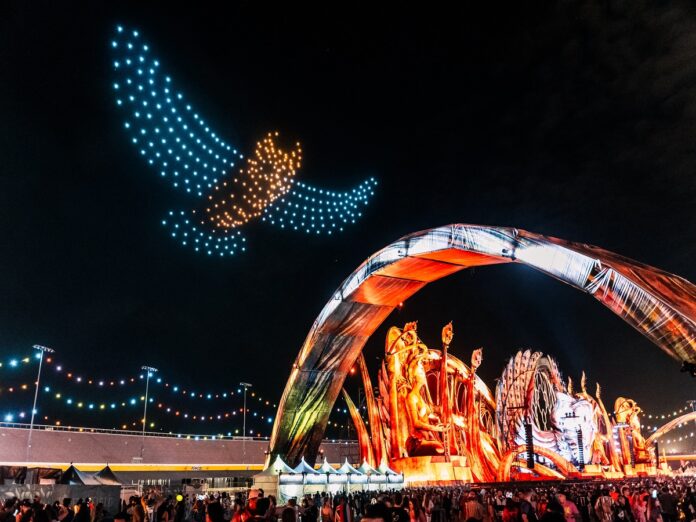 The drone light show business is a growing industry that offers a unique and captivating form of entertainment. Due to technological improvements, drones have become a popular tool for generating breathtaking light shows that audiences of all ages may enjoy. If you're interested in beginning your own drone light show business, this piece will offer you with a thorough introduction to the process.
We will cover the details on history of drone light shows, the required equipment and drones, financial considerations, and marketing and promotion strategies. By the conclusion of this article, you will have a greater grasp of the drone light show business and the processes required to begin your own profitable firm. Whether you're a drone enthusiast or simply seeking for a new business opportunity, this book will provide the information you need to take the first step toward launching your own drone light show business.
Drone Light Show Business & its history
A drone light show is a performance that employs a fleet of drones equipped with LED lights to produce a spectacular display in the night sky. A computer program controls the drones by coordinating their movements and synchronizing them with music or other audio. The drones can create a range of graphics and patterns, including logos, texts, and even three-dimensional objects. The lights on the drones may change color and intensity, providing the audience with a dynamic and immersive experience.
The first drone light shows were created in the early 2000s, but it has only been in recent years that the technology has improved sufficiently to make them more generally available. Initially, drone light shows were predominantly utilized for special events and large-scale public gatherings, including festivals and concerts. As the technology has gotten more economical and user-friendly, however, drone light shows have become more prevalent in a variety of contexts, including corporate events, weddings, and even private parties.
Starting a Drone Light Show Business – Step by Step Guide
Quick Facts
| | |
| --- | --- |
| Industry trend | Growing |
| Investment range | $50,000 – $100,000 |
| Revenue potential/annual | $100,000 – $200,000 |
| Commitment | Full-time |
| Time to build | 6-12 months |
| Profit potential | $50,000 – $100,000 annually |
Step 1: Market Research
The market for drone light shows in the United States has experienced tremendous growth in recent years and is anticipated to continue to expand in the coming years. This is owing to the increasing popularity of drone light shows as a unique and fascinating type of entertainment, as well as technological improvements that have made it easier and less expensive to construct high-quality shows.
In the United States, the market for drone light shows is mostly focused on festivals, concerts, and corporate events. The demand for drone light shows has increased in major cities such as New York, Los Angeles, and Las Vegas, where many event organizers are searching for novel and innovative methods to improve their events.
The market for drone light shows business in the United States is highly competitive, with numerous small and large businesses offering their services. However, the sector is still very young, giving new entrants an excellent opportunity to establish themselves and earn market share.
Step 2: Create Business Plan
A business plan is required to launch any enterprise, including a drone light show business. It serves as a road map for your organization and gives a thorough grasp of its objectives, strategies, and financial projections. It is also a great tool for persuading prospective investors, business partners, and lenders that your enterprise is viable and profitable.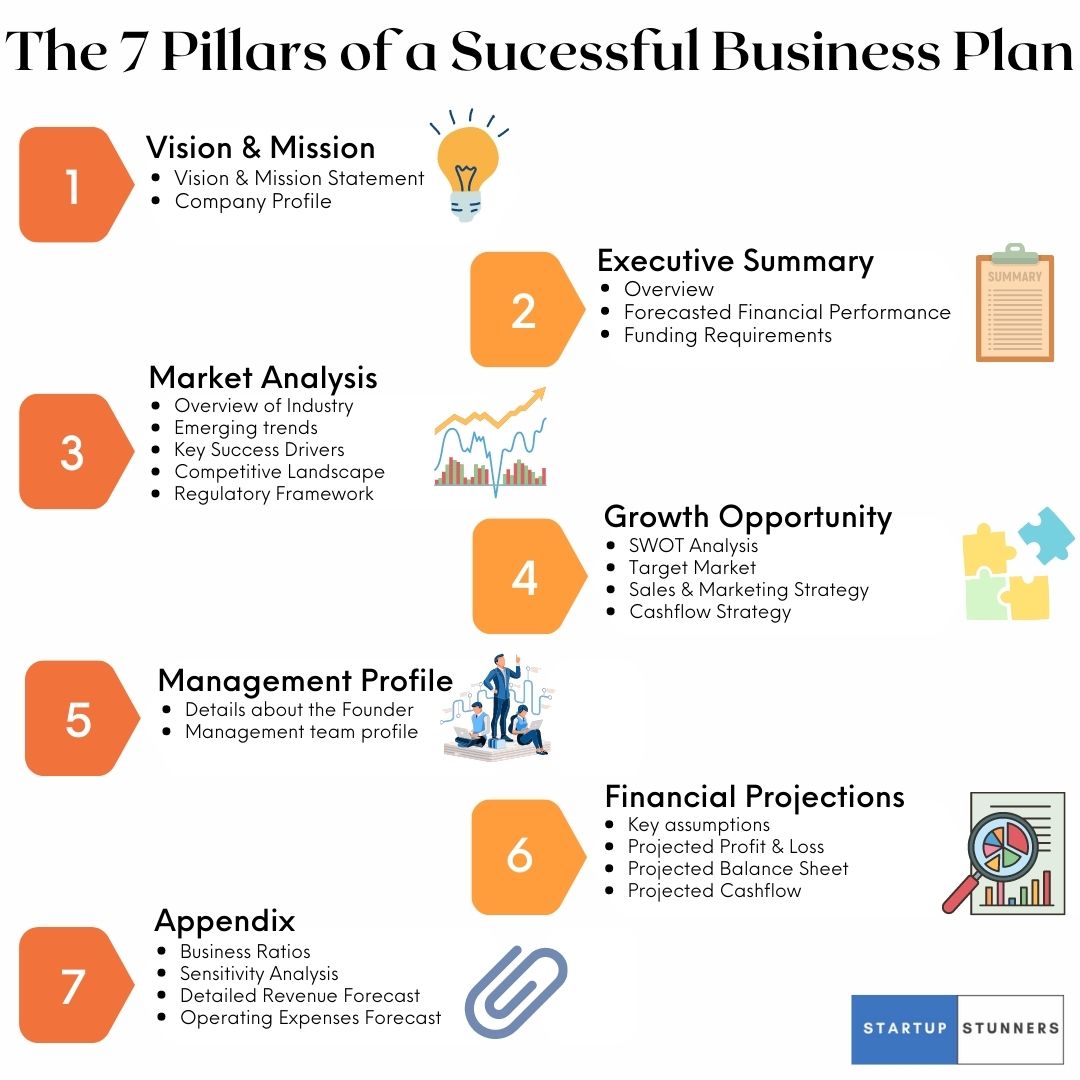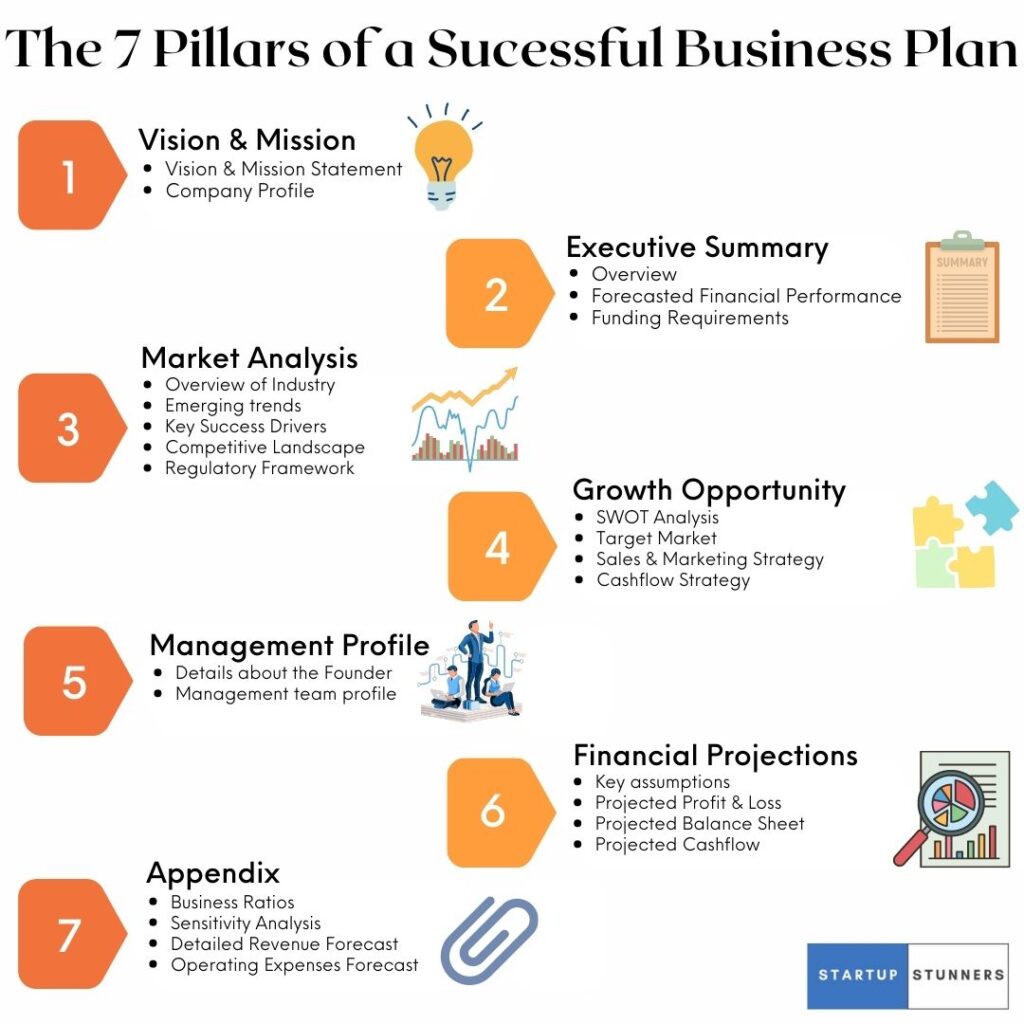 When building a business plan for a drone light show business, it is essential to include information about the industry trend, the target market, the required equipment and drones, financial predictions, and marketing and promotion methods. Additionally, it is essential to analyze the market rivalry and how your organization will differentiate itself and attract clients. The business plan will assist you in identifying and evaluating the risks and opportunities associated with this business.
Startup Stunners has been providing top-notch business plan writing services for years, and we're ready to help you create a comprehensive, effective plan that will propel your business forward. Our team of experts is dedicated to helping you achieve your business goals and secure funding from banks, grants, or other sources. Whether you're a beginner, entrepreneur, or small business owner, we're here to help you succeed. Don't wait any longer, visit startupstunners.com/contact-us/ today and let us guide you on the path to success!
Step 3: Equipment Required
The equipment and drones needed for a drone light show include:
Drones: Typically, quadcopters equipped with LED lights are utilized for drone light shows.
LED lights: These lights are mounted to the drones and are capable of changing color and intensity, offering a dynamic and immersive experience for the audience.
Computer program: A computer program is used to control the drones and synchronize their movements with music or other sounds.
Other accessories: This might include a place to charge the drones, a remote control, and other things needed to run the drones and lights.
Step 4: Select Appropriate Drone
Several types of drones are frequently employed in light shows. Among the most popular varieties are:
Multirotor drones: These drones often have four or more rotors and the ability to hover, making them perfect for light shows. Additionally, they can carry a variety of payloads, such as lighting and cameras.
Fixed-wing drones: These drones have a conventional airplane-like configuration and can fly at greater speeds and for longer durations. They are frequently utilized for larger-scale light shows and can be equipped with a variety of lights and cameras.
Hybrid drones: These drones combine the best characteristics of multirotor and fixed-wing models. They have the ability to hover in position like multi-rotor drones and fly at high speeds like fixed-wing drones.
Custom-built drones: Some drone light show companies may opt to build their own custom-built drones, customizing them with unique lights and cameras to meet their needs.
Intel's Shooting Star, DJI's Matrice, and Freefly's Alta 8 are examples of well-known drones used for light shows. These drones are renowned for their lengthy flying periods, steadiness, and capacity to carry a range of payloads, including cameras and lights.
Importantly, the drone light show business owner must possess an FAA-approved drone for commercial use and adhere to FAA laws. In addition, they must avoid flying over people and restricted airspaces and carry insurance.
Step 5: Cost Considerations
Costs associated with launching a drone light show business might vary based on the technology and drones utilized, as well as the business's location. Among the most significant costs to consider are:
Equipment and drones: This cost includes the acquisition of drones, LED lights, a computer program, and other peripherals. The price of these things varies according on brand and quality.
Licenses and permits: Obtaining the requisite licenses and permits from the FAA and other pertinent authorities might cost several hundred dollars.
Marketing and promotion: building a website, social media presence, and advertising campaigns. The cost of these can vary based on the employed procedures.
Insurance: You need insurance to cover any accidents or damages that might happen. The cost of insurance might vary based on the required level of coverage.
Typical Cost of Drone Light Show Business
The cost of a drone light show can vary substantially based on a variety of factors such as the location of the event, the number of drones utilized, the length of the show, and the complexity of the display.
A modest drone light show with a restricted number of drones and a brief duration can cost between $5,000 and $10,000 on average. However, a larger and more elaborate display with a greater number of drones and a longer length can cost upwards of $50,000 or more.
Additional expenditures to consider include equipment rental, transportation, setup and breakdown fees, and insurance.
It is also essential to remember that the cost of the drone light show should not be the only aspect considered when calculating the price to charge clients. When determining cost, additional factors such as the expertise and experience of the drone operators, the uniqueness of the display, and the location of the event should be considered.
Prior to establishing your own pricing structure, it is always advisable to conduct research on and compare the prices of other drone light show providers in your area.
Step 6: Explore Revenue Streams
Potential revenue streams for a drone light show business:
Numerous corporations that hold events such as product launches, trade exhibitions, and conventions may be interested in including a drone light show.
Drone light shows can make weddings and private gatherings, such as birthday parties and anniversaries, distinctive and unforgettable.
Drone light shows may provide a dynamic and exciting element to festivals and concerts.
Companies may be interested in incorporating drone light shows into their advertising campaigns, for example by making a light show to promote a new product or service.
Drone light shows can be utilized to create a unique and aesthetically beautiful effect in film and television production.
By expanding its revenue streams, a drone light show company can boost its profitability and appeal to a greater variety of customers.
Step 7: Licenses & Permits
Obtaining the required licenses and permits is a crucial step in the process of launching a drone light show business. The Federal Aviation Administration (FAA) is the primary regulatory agency in the United States charged with monitoring the use of drones. The following licenses and licenses are required to operate a drone light show business:
1. Part 107 Remote Pilot Certificate: This certificate is required for anyone operating a commercial drone. Individuals seeking this license must pass a written exam and a background check.
2. Section 333 Exemption: This is a special authorization that permits the commercial use of drones before the FAA has fully integrated drones into the national airspace system. This exception is frequently utilized by businesses who produce drone light shows at concerts and festivals.
3. Special Airworthiness Certification: This certification is mandatory for all commercial drones. This permits the drone to operate safely in the airspace.
4. Waivers and Permissions: In some instances, drone light show firms may be required to get waivers and permissions to operate drones in specific locations or at specific times. This may include waivers for nighttime or over-people flight.
5.      Local Permits: In addition to federal licenses and licences, drone light show businesses may be required to secure local permits in order to operate in certain places. This may include permissions from the municipality or county where the business is located, as well as permits for certain events or venues.
Notably, the owner of a drone light show business must adhere to FAA requirements, which include flying below 400 feet and within line of sight. In addition, they must avoid flying over people and restricted airspaces and carry insurance. It is essential to check with the FAA for the most recent rules and regulations and to contact with an attorney to ensure compliance with all applicable laws and regulations.
Step 8: Marketing & Promotion
We suggest following tips to market and promote your drone light show business:
Having a website is an excellent approach to promote your business and portfolio.
Utilize social media channels such as Facebook, Instagram, and Twitter to market your brand and interact with potential customers.
Attend industry events and networking functions to meet possible clients and business partners.
Create a portfolio to exhibit your work to prospective clients.
To attract new customers, offer discounts, such as a discount for booking a concert during the off-season.
Identify certain markets, such as weddings and corporate events, that may be interested in your services, and promote to them specifically.
Utilize referral marketing by encouraging satisfied clients to suggest their friends, family, and coworkers to your company.
Step 9: Insurance
When launching a drone light show business, it is vital to examine the necessary insurance coverage. Drone operators are responsible for obtaining the proper insurance coverage to protect themselves and their clients in the event of an accident or other incident.
The following insurance policies are often necessary for a drone light show business:
General Liability Insurance: This insurance covers damages to third parties or their property, as well as legal bills in the event of a lawsuit.
Drone Liability Insurance: This insurance covers damages caused by the drone, such as property damage or bodily injury to third parties. Typically, clients and locations where the light show will occur demand this form of insurance.
Inland Marine Insurance: This insurance covers any equipment or other property used in the drone light show business, such as drones and lighting equipment.
Workers' Compensation Insurance: This insurance protects employees of the drone light show business against injuries or accidents.
Conclusion
Establishing a drone light show business can be a difficult but lucrative enterprise. If you're interested in beginning your own drone light show business, you should conduct extensive research and draft a thorough business plan. Consider the cost of equipment, licenses, and marketing, as well as possible revenue sources, when calculating startup costs. With the proper strategy and commitment, your drone light show business can be prosperous.
Frequently Asked Questions
How much does it cost to start a drone light show business?
The cost of launching a drone light show business might vary based on the business's size and scope. The number of drones required, the cost of equipment such as controllers and software, and the cost of getting licenses and permits are factors that affect cost. The average cost might range between $50,000 and $100,000.
What are the most important factors to consider when starting a drone light show business?
Understanding the industry, developing a comprehensive business plan, acquiring the appropriate equipment and licensing, and formulating a marketing strategy are the most crucial elements to consider when launching a drone light show business. To ensure profitability, it is also vital to evaluate costs and prospective revenue streams.
What type of drones are typically used in drone light shows?
Quadcopters with LED lights that can be programmed to create a variety of patterns and designs are the most frequent drones used in drone light shows. Some businesses utilize hexacopters and octocopters for larger-scale performances.
How do I market and promote my drone light show business?
There are numerous ways available for marketing and promoting a drone light show company. Creating a website and social media presence, networking with event planners and other industry professionals, and displaying your work at events and expos are a few of these methods. It is also essential to form collaborations with other businesses and participate in trade exhibitions to promote your brand.
How long does it take to build a drone light show business?
The time required to create a drone light show business might vary based on the business's size and scope, as well as the owner's experience and commitment. On average, it might take between six and twelve months to launch a drone light show business.