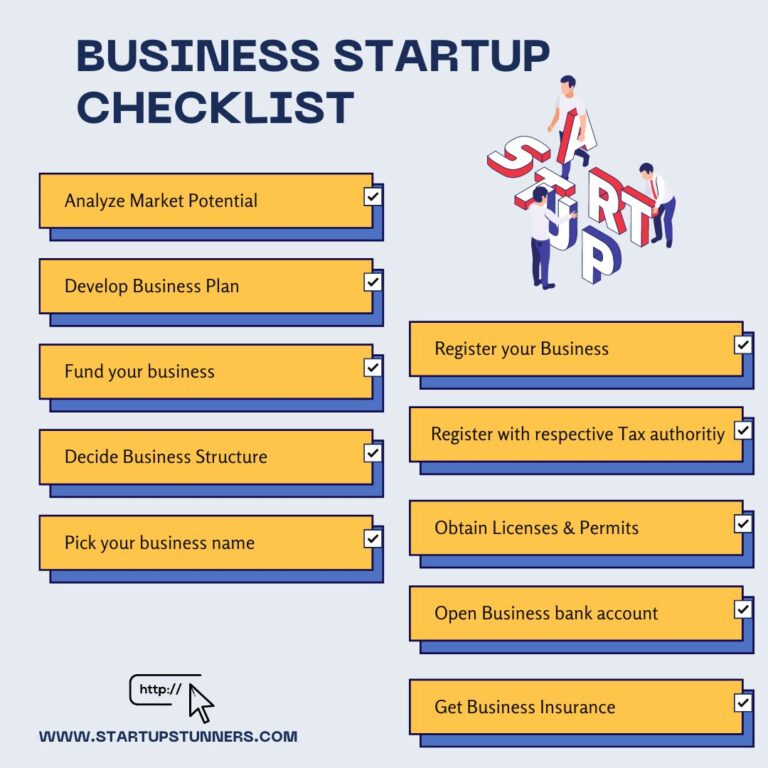 A lot of new businesses are starting up these days. As the number of people in the world grows, more and more people are starting their own businesses to support their families or get extra money in other ways.
So it makes sense that the number of people starting their own businesses has grown by a lot. But it's still a risky move, and if you don't do everything right, you could lose money or, even worse, never get it back.
It can be both rewarding and hard to start a business. There are several things you can do to make sure your business does well. But you can't really plan for everything. So, we made this list of must-haves for a new business to make your life easier. Use these to set up the perfect environment for your business to start up.
1. Analyze the Market Potential
There's nothing better than being an expert in your niche, so learn about the market you want to sell to before you even start. What do you think your customers will want? How many do you think there are?
Once you know what the market wants, you can make products and services that meet those needs. Aside from knowing who your target market is, you also need to know how much they're willing to spend. Your goal is to make sure that whatever you make is of high quality and costs less than what your competitors offer.
Think about the following things to learn more about your market:
Market size
Competition
Costs
Demand
Monetary Indicators
Location
The better your chances of success, the more you know about how the market works.
2. Develop a Business Plan
A business plan is just a written document that describes your business goals, what you'll do to reach them, and how much it will cost. It's a plan to keep you on track so you can stay on task. A good business plan can also help you get the attention of possible investors, so it is worth your time and effort to make one.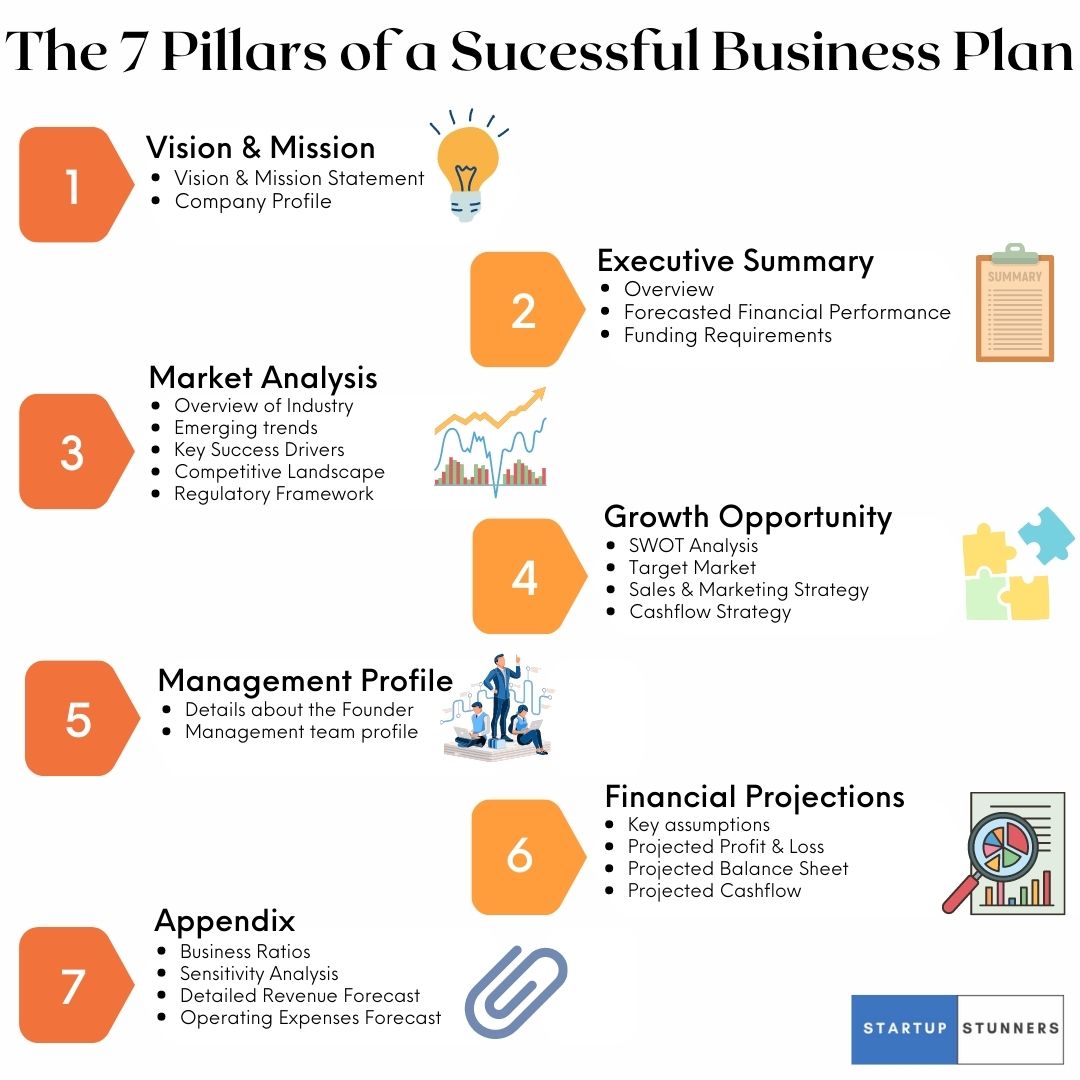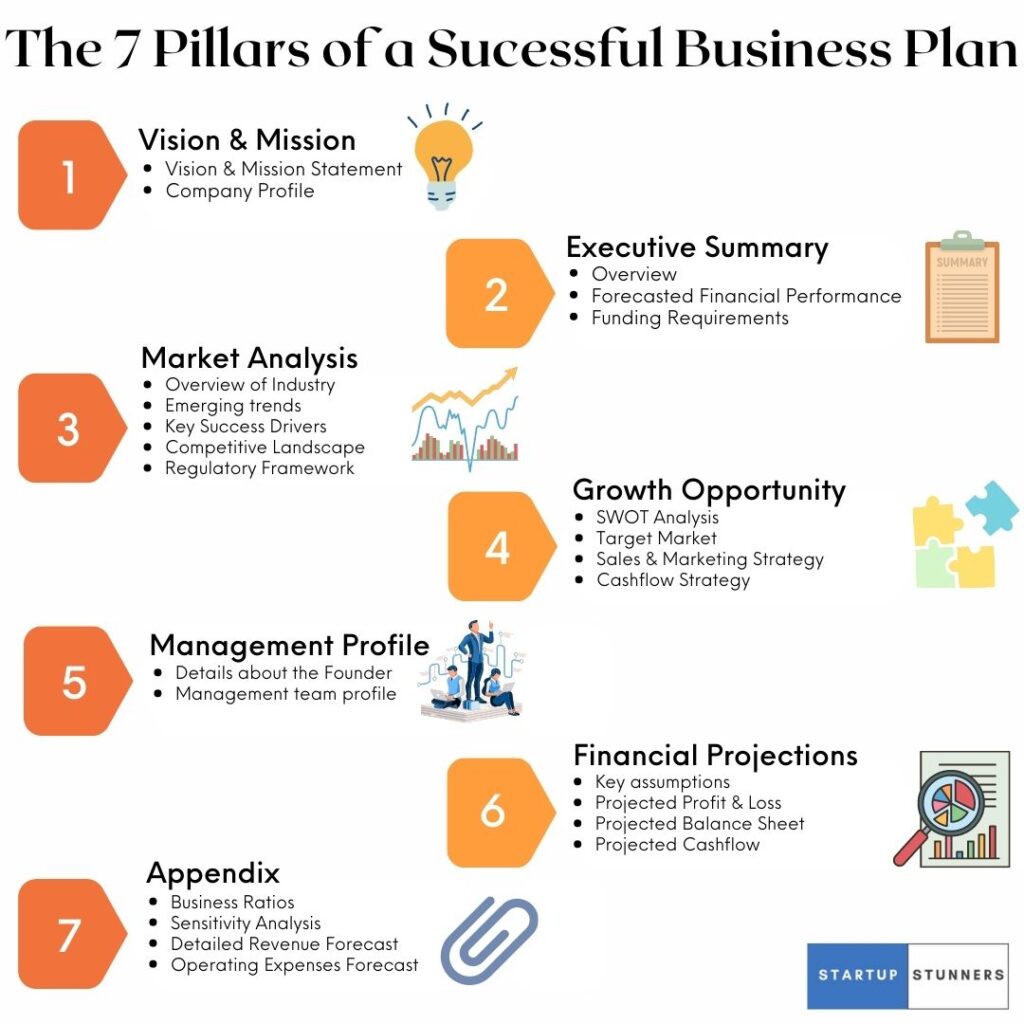 If you don't have a well-thought-out plan, you might spend more time trying to figure out what to do next than actually doing anything. And if that happens, you might lose control of your business and, in the end, your money.
You should also think about how your business will stand out from the rest. A typical business plan, for example, has:
Executive Summary
Company Overview
Market Research
Organization And Management
Service Or Product Line
Marketing And Sales
Funding Request
Financial Forecasts
Appendix
Hence, You can't just open an online store and hope that it does well. A business plan is what you need. A good business plan that explains what you want to do and how you plan to do it will help you get money.
3. Get Funding for Your Company
You need money before you can start. If you don't, you're putting all of your eggs in one basket. If you want your business to grow, you should put your money and time into more than one business, including your own.
Starting a business costs a lot of money. Many business owners see getting money as an important first step in getting their business off the ground. The sources of funding you choose may affect how your business is set up and how it runs.
You can get money through the following ways:
Self Funding
Investors
Bank Loans
Crowdfunding
4. Decide a Business Structure
There are basically four ways to choose a legal framework.
Partnership
Corporation or S-Corporation
Sole Proprietorship
Limited Liability Company (LLC)
Before you choose a structure for your business, you should think about how well it fits you and your business. Do you need protection from your own mistakes? Do you like to work in a small group? If so, you might do well with a sole proprietorship.
Or maybe you need an easy way to borrow money from banks. Employees and other people in the organisation could get this benefit and protection from a company. But remember that each type of business structure has its own pros and cons.
There are also some tax issues to think about. So, talk to an accountant or lawyer first. They can help you figure out what kind of business structure will work best for you.
5. Pick a Name for Your Business
Make sure the name of your business reflects who you are and doesn't go against what you offer.
It is important for your business that you protect the name you have chosen. When it comes to registering the name of your business, you can do so in four different ways. Each way to register your business name serves a different purpose, and some may be required by law based on how your business is set up and where it is.
Trademark
Domain Name
Doing Business As (Dba) Name
Entity Name
6. Register Your Business
The registration requirements for your business will depend on where it is and how it is set up. Once you have figured out these details, it will be easy to sign up.
Most small businesses will find that registering their company is as easy as registering the name of their entity with the state and local authorities. In some situations, you don't have to fill out the form.
If you do business under your legal name, you don't have to register as a business. But keep in mind that if you don't register your business, you might not be able to enjoy the benefits like protection from personal liability, legal privileges, and tax benefits.
Most businesses don't need to apply for a federal tax ID to become legal entities.
Small businesses can ask the federal government to protect their trademarks or exempt them from paying taxes.
Your company, brand, or product name should be registered with the United States Patent and Trademark Office as soon as possible (USPTO).
In order for your company to be tax-exempt, you must register it with the Internal Revenue Service (IRS) as a tax-exempt organisation.
7. Get a Federal and State Tax Identification Number
You have to get an EIN (Employer Identification Number). It is a tax ID number from the IRS that is like a Social Security Number. Employers use a Social Security Number to access benefits and payroll records. With an EIN, you can use other federal tax identification numbers to file your taxes, access government websites, and open bank accounts.
Having a Federal Identification Number makes it possible to pay federal taxes, hire workers, and open a bank account (EIN).
Getting an EIN is easy and free, and you should do it as soon as you register your business.
If your business is doing any of the following, you need a tax ID number:
Employees are paid for the work they do.
The business is run as a partnership corporation.
Prepares and sends in payroll tax returns and excise tax returns for guns, alcohol, and tobacco.
Non-wage payments made to a non-resident immigrant are taxed by the government.
uses a tax-deferred pension plan called a Keogh Plan.
works with certain types of businesses
Using the IRS help tool, you can get an EIN. You'll need to give information like your first and last name, social security number, home address, and the name you do business under in order to move forward (DBA). Your nine-digit federal tax ID number will be easy to get once you've been verified.
8. Obtain All Necessary Licenses and Permits
Most small businesses need licences and permits from the federal and state governments in order to do business. Depending on the type of business you run, where you live, and government rules, you may have to pay extra fees.
If your business is regulated by the federal government, you'll need a federal licence or permission. The type of licence or permission you need and how much you'll have to pay depend on a number of factors. If you want to know more about how much the business licence costs, the best thing to do is to talk to the group that gives them out.
If you do any of the following and want to know more about the rules for doing business, you can contact the relevant federal agency:
Broadcasting
Pharmaceutics Manufacturing
Ground Transportation
Retailing Of Alcoholic Beverages, Tobacco Products, Or Weapons
Financial Planning
Processing Of Meat And Meat Products
For some jobs and industries, the state issues licences and permits that are needed. For the following jobs, the best thing to do is to contact the state agency in charge of enforcing these rules:
Accountants
Barbers
Real Estate Agents
Building Contractors
Banks
Insurance Carriers
Physicians
Appraisers
Auctioneers
Funeral Directors
Bill Collectors
Cosmetologists
Private Investigators
Private Security Guards
9. Open a Business Bank Account
When you are ready to accept or invest thousands of dollars on behalf of the business, you should open a business account. If you want to stay out of trouble with the law, you need to keep a business bank account. Also, it's good for both your customers and your employees.
Once you've chosen a bank, it's easy to open an account for your business. You can start the process by going online or going to a branch near you. Usually, the following documents are needed to open a bank account for a business: When this happens, banks may ask for more.
If you run a one-person business, you'll need an Employer Identification Number (EIN) or a Social Security number.
The paperwork for starting your business
Property contracts
Licensing agreement for a business
10. Get Business Insurance
Many small business owners don't get business insurance because they think their businesses are too small to qualify. Or they don't have the money to buy insurance right away. They're not right! Business insurance isn't just for big businesses that have a licence. Even if you don't have a professional licence or a storefront, it's cheap to protect your personal assets in case something goes wrong with your business.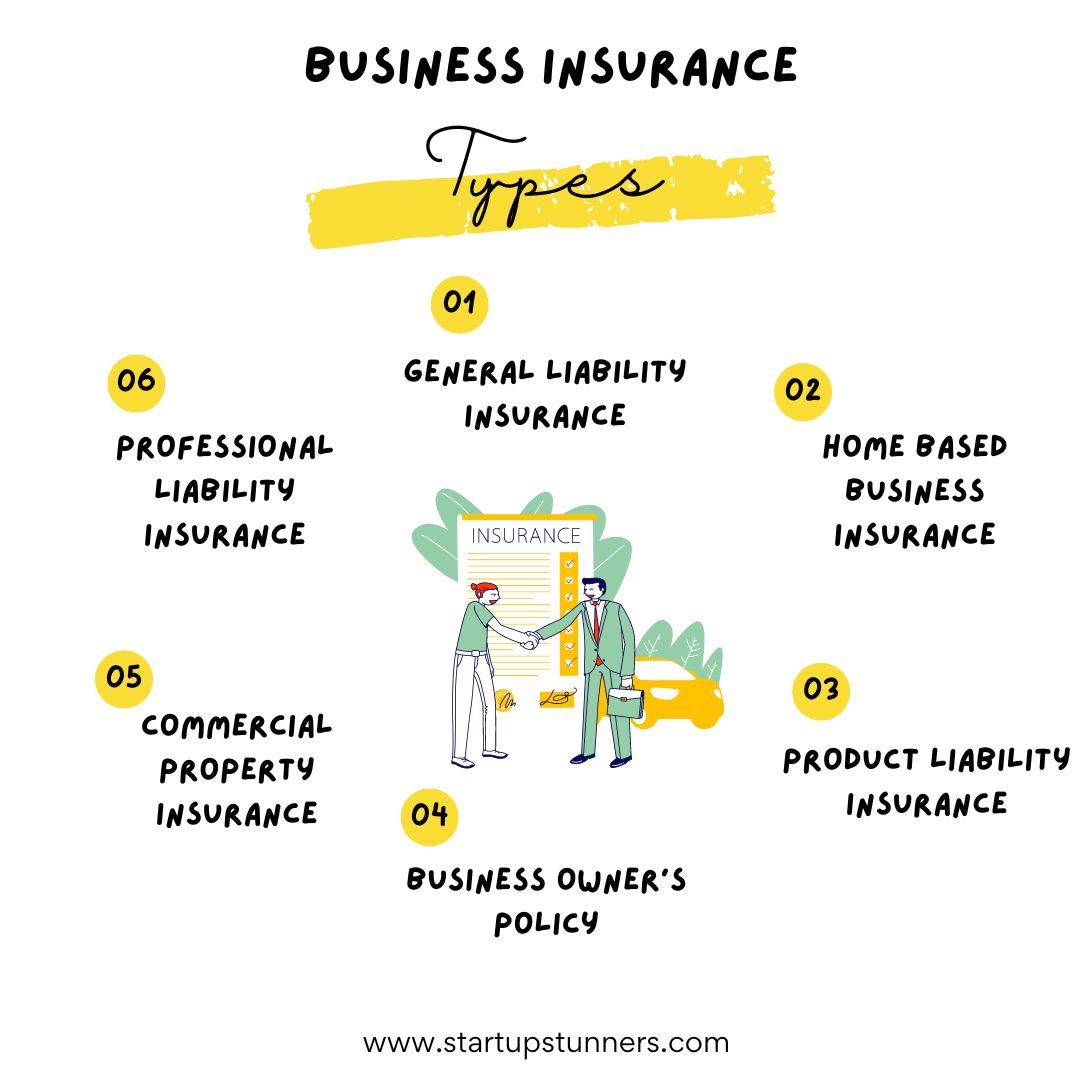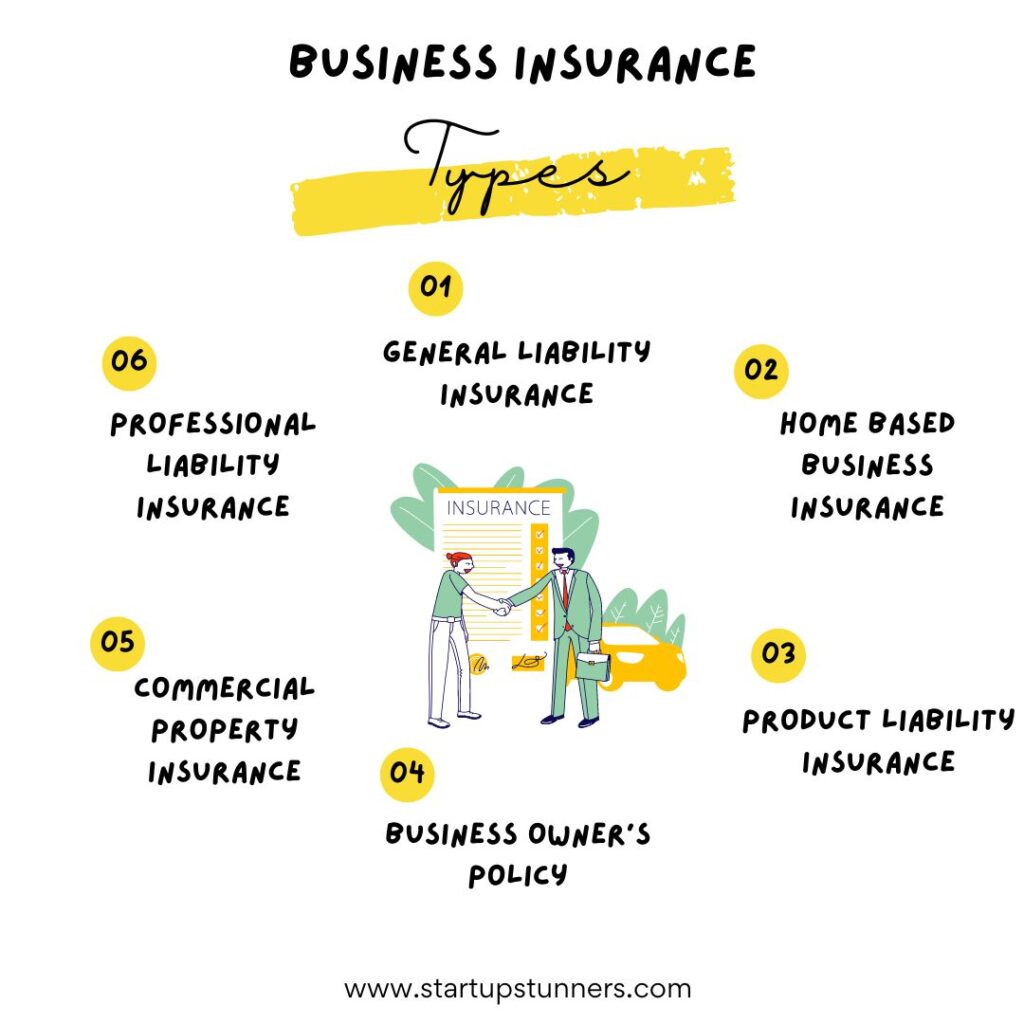 For your business to be safe, you must first get the insurance that the law requires. Things you can't pay for by yourself should always be covered by insurance. Talk to insurance brokers to find out what kind of policy is best for your business, and compare features and costs to find the best deal. Here are some common types of business insurance to look for:
Professional Liability Insurance
General Liability Insurance
Home-Based Business Insurance
Commercial Property Insurance
Business Owner's Policy
Product Liability Insurance
When you first start your business, you need to know these basic things because you won't always be an expert in every area. So, it's best to start small and learn how each part of running a business works before growing.