We all enjoy the independence of being our own boss, especially while we are in high school or college. Teenagers have a strong desire to travel and earn money. You don't have to obtain a job to have a career these days. Instead, you might start a small business and research business ideas for teens online.
Teens can use the internet to start a productive online business and make money. You don't have to pay a lot of rent, and you don't have to work outside the home.
Hence, if you want to establish a profitable business as a teen, try these small business ideas for teens online.
1. YouTube Channel
Those who wish to make money from their internet presence should start with a YouTube channel. You can make money if you can establish a reputation. YouTube is the most popular site for searching for video clips.
You can make money by making movies about yourself, your hobbies, or your interests if you have anything to say. There are several instructions on YouTube that show you how to create a video blog, which may be a great way to generate money online.
If you have a talent for creating videos, this is an excellent side hustle. Your videos are monetized by YouTube through advertising or Google AdSense. It's quite simple. Simply post the movie to YouTube and sign up for AdSense (if you don't already have one). You get paid whenever your videos start receiving views!
2. Affiliate Marketing
Affiliate marketing is a type of web marketing in which products supplied by a merchant are promoted. The merchant already has content to sell on its website, but it can offer additional content that can be sold on its website. The merchant in this scenario is an associate. If a visitor purchases a product after clicking on an affiliate link, the affiliate is compensated for the sale.
It is the most typical technique for new online enterprises to get off the ground. One example is when a consumer purchases a product on Amazon.com using affiliate links on a blog, and Amazon subsequently compensates the affiliate. This sort of marketing allows for the entry of new enterprises into the market.
Hene, Affiliate marketing is a sort of performance-based remuneration in which affiliate marketers earn money for each unique visitor they lead to an advertiser's website. It's the equivalent of an upfront commission with no performance guarantees. Affiliate marketing is essentially a win-win situation for all parties involved – the affiliate, the advertiser, and the referring visitor.
3. Print on Demand Business Ideas for Teens
If you're wondering, 'How can I start a business as a teenager?' Here's everything you need to know! Printing books and other items and selling them on Amazon is a terrific way to start an internet business.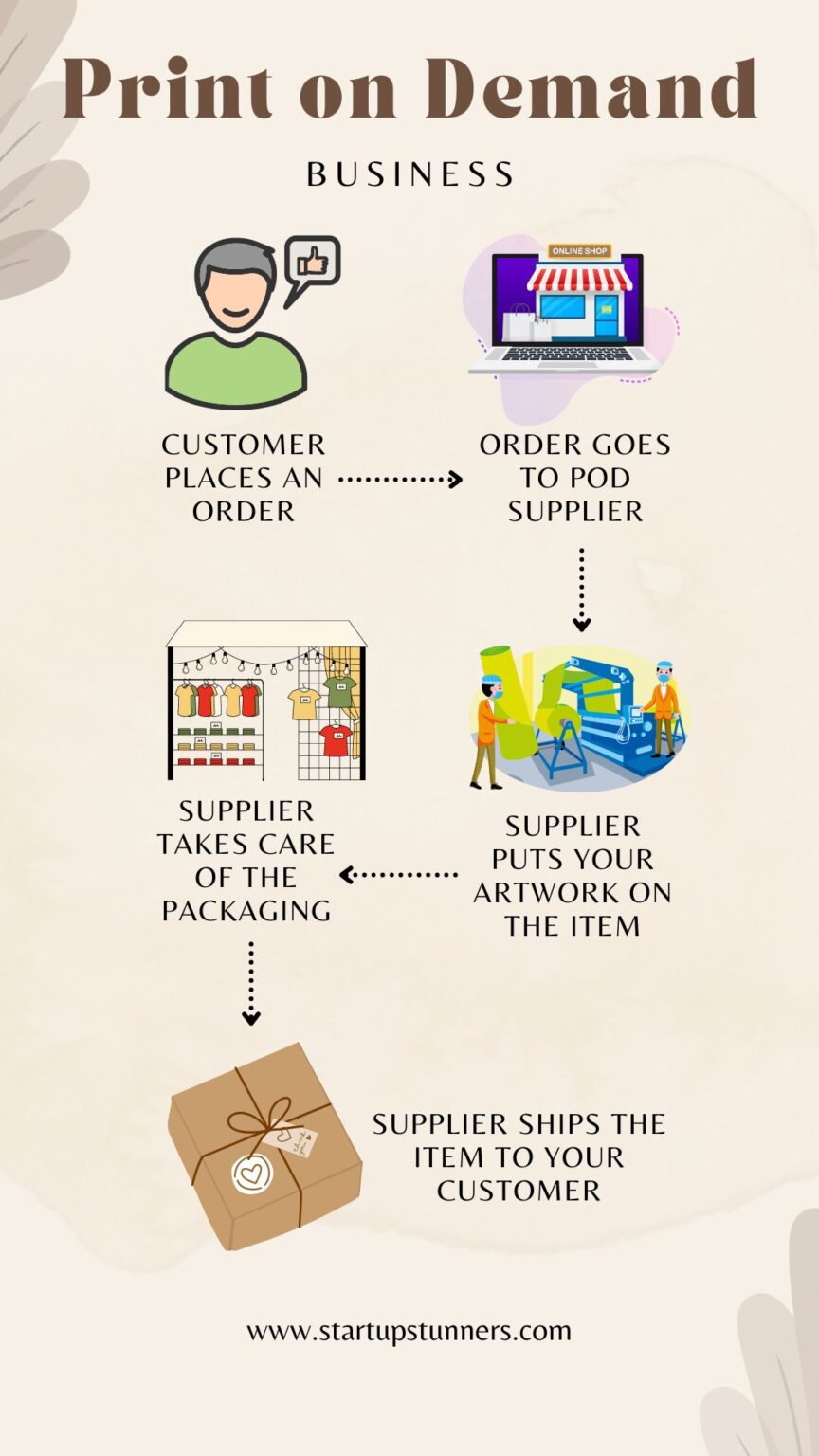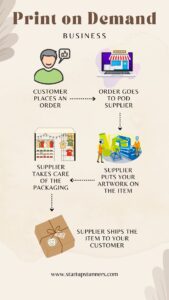 If you're wondering, 'How can I start my own business as a teenager?' Here's what you need to know! Printing books and other items and selling them on Amazon is a terrific way to get started with an internet business.
Begin by obtaining your favourite book to be printed on demand. A PC with internet connectivity is required. You can use a programme that allows you to upload photographs and type text.
You can then upload your files to Amazon. The higher the price of the book, the more Amazon will pay you. If you prefer to self-publish, you will need to learn how to do so, but it is a terrific way to generate some extra money in the beginning.
T-shirts, mugs, and other similar items are also excellent choices because you can quickly print your designs on them.
4. Freelancing
Many frequently mistake freelancing for a full-time job, but it is actually a business that allows you to work on your own time. The best aspect is that you may work your own hours, and you can still attend to your favourite school or hang out with pals while working online. This way, you can have an amazing life while also being prosperous.
You can begin with essential abilities and work your way up to expertise. This makes it ideal for teenagers who lack experience or knowledge.
You can begin by creating a website or blog where you can offer your services to others and earn money on the side. Once you've gained enough experience, you can obtain clients through your website or blog and give freelance services.
Numerous renowned freelance platforms, such as Upwork and Fiverr, have a large number of clients in need of various services. Graphic designers, web developers, content writers, and programmers can make decent money while learning new skills and expanding their portfolios on these platforms.
5. Social Media Influencer
In recent years, social media has grown in popularity at a rapid pace. Many people make their first cash through youthful business ideas.
It is not difficult to create a social networking platform. All you need to do is be inventive and unique. If you have the time and patience to work hard, you will achieve remarkable results.
Build your own personal brand as a social media influencer and earn money on your own terms. This is a wonderful opportunity for teenagers to establish a firm platform and reputation before embarking on their careers.
You can use social media to sell things to others or to earn a commission by recommending a healthy product. Individuals generate content and distribute it on social media for a variety of reasons; some want to share it with others, while others want to make money through advertising.
Companies work with well-known bloggers and online celebrities by providing them with free products to promote in exchange for a post.
6. Online Tutoring
This is a great option for teenagers to get money while still in school. Teenagers can earn extra money by instructing online for things they need or want. If you're wondering how to start a business as a teenager with no money, consider offering instructional services online.
Online tutors can advertise their services on platforms like oDesk.com. This is a job-search tool that links people who want to work.
You will be able to select your prices once you have found a position that interests you. When students require assistance with a specific subject, they will look for a tutor who specialises in that area. You will perform a service for a certain fee. You can work for yourself in your spare time. Online tutoring can assist more than just pupils. Adolescents who are home alone can accomplish this work because it does not need them to be away from their families for an extended period of time. As a result, it is one of the simple business ideas for teenagers. Follow startup stunners to find similar concepts.
7. Sell Products Online
You want to be able to spend your time doing what you want when you're young. Only if you have a job will you be able to do so. Nevertheless, by the time you're ready for college, you may realise you can't afford it.
After graduation, you can always work part-time. But what if you could launch your company at an early age? That would give you more time to focus on other things.
There are numerous ways to earn money online. One of these is through product sales. Products can be sold on Etsy, Amazon, and eBay. As a teen, what can I sell? Jewelry, clothing, and phone cases are all examples of products. These things can be sold to people all around the world. So, what are you holding out for? You'll need to set up a website with a strong sales funnel, but that shouldn't be too difficult.
8. Photo Editing
Teenagers nowadays are increasingly interested in technology and other things. It is not unexpected that they are also interested in photo editing. You can offer photo editing services to others as an internet enterprise. There are numerous approaches to this. As previously indicated, some teenagers sell their skills on freelancing websites such as Upwork.
Others can make use of sites such as Photoshop or Adobe Photoshop. These websites provide a variety of packages ranging from basic tweaks to more sophisticated jobs.
To be successful in this sector, one must have the knowledge and skills to handle a wide range of jobs efficiently. This will ensure that you are earning a good living. You should also stay up to date on the current photographic trends.
With people growing more mindful about their appearance and aesthetics, there is a high need for skilled photographers.
9. Livestream Video Games
What could be better than sharing your passion with your friends? Why not combine your passion with a profitable business idea? One popular method is to live broadcast video games. You can broadcast your favourite game to a live audience. That is, folks who watch you play your games pay you. You can earn as much as $200 every hour!
This can also be used to create sales. You can, for example, broadcast games from popular gaming sites like Steam or Xbox Live. Via the webcam, your viewers can follow you and watch you play. They can then talk to you and ask you questions. In turn, you can sell virtual items or game-related merchandise.
You can finally live your goal of becoming a streaming celebrity as a teen without leaving your house. What exactly are you waiting for? Don't wait any longer; start making money online today!
10. App Developer
Applications are all over the place! People, particularly teenagers, enjoy new apps because they provide them with something entertaining. There is always a new app if you have a smartphone or tablet these days. You do not need to be a software expert to perform this.
It's simple to become an app developer and create apps that accomplish things they never thought were possible. App development is ideal if you are an adolescent who enjoys technology and likes to experiment.
To begin an app business, you must first come up with a fantastic idea. It doesn't have to be something spectacular. An app that allows users to accomplish a chore or connect with others is an excellent place to start.
The next step is to learn how to create an app. Most teenagers now know how to use a smartphone or tablet, so this shouldn't be too difficult. You should be aware, however, that an app developer must master some coding or programming language.
You must sell your app once it has been developed. There are several options. Sharing an app on social networking sites like Facebook and Twitter is the simplest method to sell it. You might also promote your app at local shops or on online forums.
Conclusion
If you're an adolescent, chances are you have huge dreams. You want to travel the world, establish a name for yourself in your field, and earn enough money to persuade your parents to finally pay for that flashy sports car you've always wanted.
All of this is possible if you have the guts and desire to take the first step towards hard work and, eventually, success. Yet, if you're thinking about establishing your own firm, you might need some business ideas for adolescents before you invest thousands of dollars on your first venture.